Following on from Adam's HeatGeek video https://www.youtube.com/watch?v=RlcvncWvNUQ. Im wondering where we are on the question of the accuracy of Vaillant's inbuilt monitoring vs results from MID approved electric and heat metering? Im not familiar enough with Vaillant's inbuilt monitoring to have a clear view either way, but get the impression that there's quite a bit of variability?
@Zarch you posted some mixed results on your blog: How to Measure Vaillant Arotherm COP - Energy Stats UK
December 2022 suggests under reporting by Vaillant?
Heat Meter COP: 3.35
Sensocomfort COP: 3.26
Controller Working Figure: COP 3.2 heat / 2.4 hot water – so hot water is 30% of our requirement, so an overall Working Figure of 3.0?
April 2023 suggests over reporting?
Sensocomfort Heating: 4.9
Sensocomfort Hot Water: 3.2
Combined 4.4?
Heat Meter COP: 4.14
Could the hot water heat meter issues be contributing to the lower SCOP using the heat meter in April?
Michael de Podesta also highlighted issues with his Vaillant app, in his case under reporting SCOP siginificantly The MyVaillant App: a review | Protons for Breakfast 2.83 from the vaillant app vs 3.33 from MMSP
Adam's own system is under reporting on the Vaillant inbuilt monitoring as well.
There are a lot of Vaillant systems on heatpumpmonitor.org now with both sets of monitoring so we should be able to get a good idea of what the variability looks like?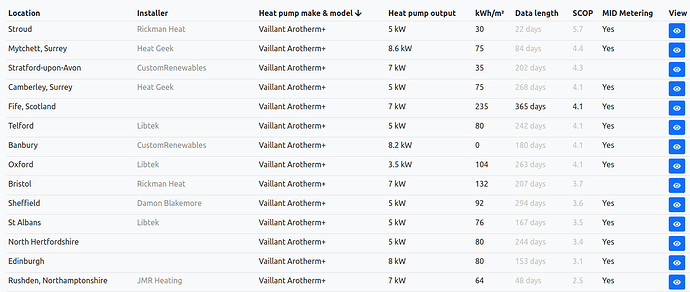 Do the errors all come out in the wash perhaps as a mix of under and over reporting? The overall result that Adam reports of a SCOP of 4.02 including hot water across all of the systems is certainly in-line with what we are seeing at the higher end on heatpumpmonitor.org and @glyn.hudson and my own experience with our own systems. The key being low temperature design, tuned controls and all of the other factors that are covered in the HeatGeek training as Adam highlights but it would still be great to understand what differences there are between monitoring results so that we are as robust in our findings as possible…