[EDIT - Title was changed from "Who can tell me what I'm looking for?" once we had some ideas on what it was I was looking for.]
I'm struggling to find a component that does what I want and I'm convinced it's because I do not know exactly what to look for. It seems so basic and universally "handy" I refuse to believe there isn't something out there for the job.
Basically, think of a solid state 8 way changeover relay with a 3.3v coil and really lightweight contacts in a DIL package or similar.
What I want is to use it with an arduino type device (but not limited to Arduino it could actually be any mcu) so that an 8 way dip switch is read only at start up. during "setup()" the "coil" would be energized and the 8 switches read into a 1 byte variable, the "coil" released and those same pins setup and used for what ever they are allocated to.
This would allow me to use a dip switch to set a nodeid of 0-32 and 3 other settings (at this point the number of channels is flexible, 8 just seemed right) at a cost to the IO of just one pin (to put that into perspective we already use 2 pins on the emonTx to set 1of2 node ids and USA/UK.
I'm not looking to increase the capacity of the original OI, just redirect it for a split second at start up. I have played with basic logic gate but that seriously reduces the flexibility of the original IO to input only.
Since I have been meaning to ask this question for a while but have been held back by how to create a schematic to illustrate my circuit, I have now scribbled a diagram and took a photo for speed and ease. Here it is…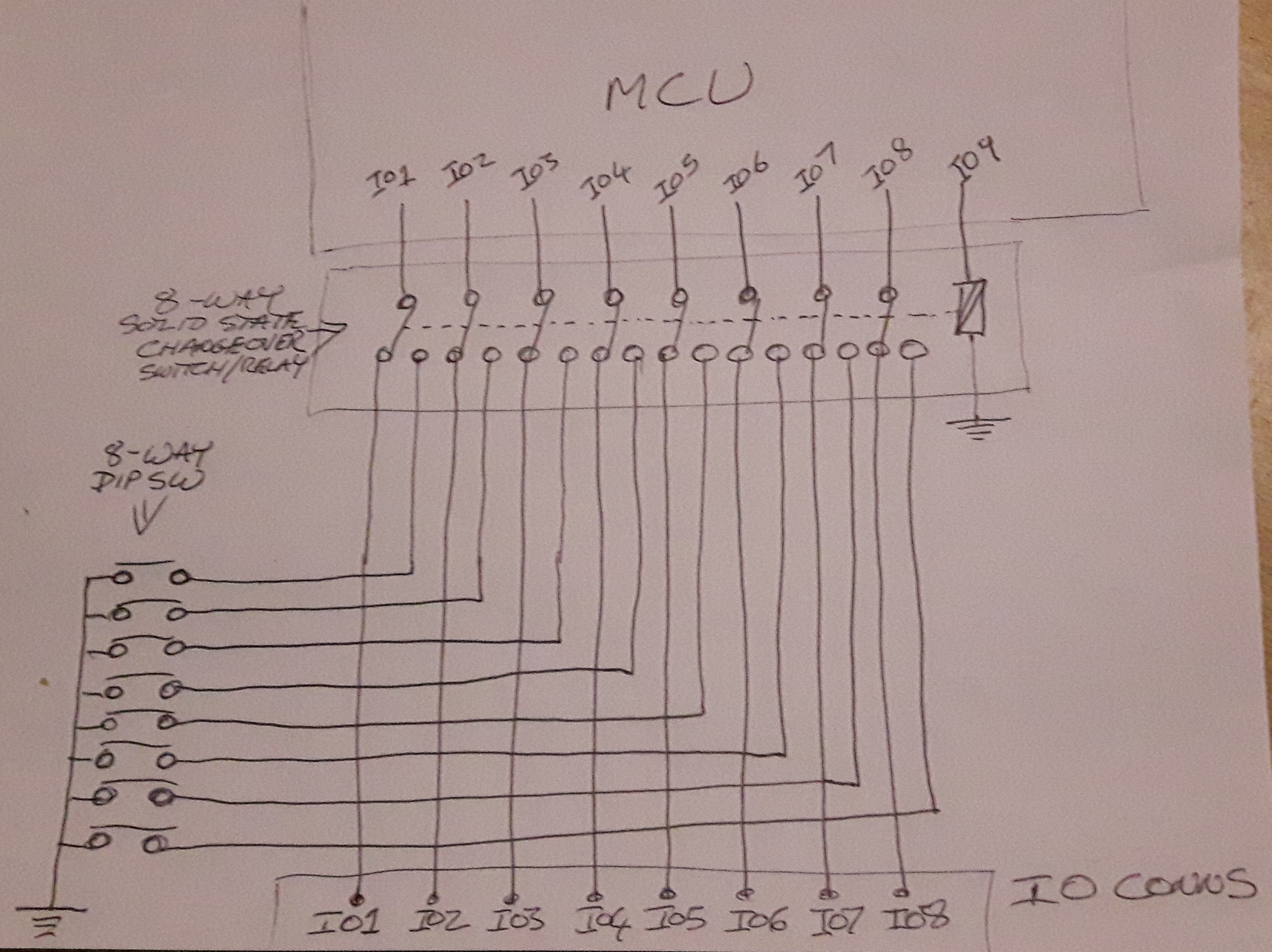 I have not used Arduino pin numbers or been specific about it's accompanying mcu as I don't think it matters beyond it's operating VCC which I would like to be 3.3v.
I obviously do not want a relay (despite my libral use of the term "coil"), but that's the only way a can get my thoughts across. In my mind there will be a cheap simple device to do a straight forward job. But if that's not the case an elaborate solution would probably undermine the simplicity I seek, but any idea's are welcome.