I am glad to see the new Open Energy Monitor hardware uses the LowPowerLab radio library. It is great.
I've been running devices with both libraries for a few years now, and I thought it might be a good time to post about how I do it.
They key is to use a Moteino USB in addition to the RFM69Pi/RFM69SPI.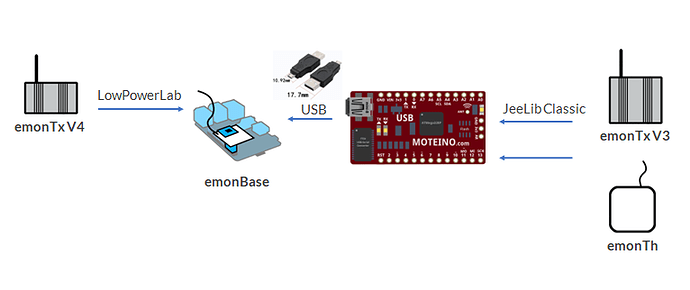 Moteinos are the creation of Felix Ruso from LowPowerLab. All about Moteino | LowPowerLab
Advantages of Moteino USB over other similar devices.
Moteino USB doesn't need the GPIO header, which is often already occupied by the RFM69Pi/SPI.
Moteinos can be ordered with the RFM69CW transceiver, unlike other small Arduino-like USB devices such as Ardiuno Micro.
Moteinos can make additional bridges to emonHub with any of its other available transceiver options. (Including LoRa!)
The JeeNode classic looks like it would also work, but I haven't tried it. The JeeLabs Shop - JeeLink Classic (digitalsmarties.net).
A Moteino USB can run the RFM69Pi firmware compiled for Arduino Uno boards. That firmware is available in the RFM2Pi repository. RFM2Pi/firmware/RFM69CW_RF_Demo_ATmega328/RFM69CW_RF12_Demo_ATmega328/src at master · openenergymonitor/RFM2Pi (github.com)
It boils down to two steps.
Use the Arduino IDE to flash the Moteino USB with this firmware.

Add the following entry to emonHub (emonCMS > Setup > emonHub > Edit Config) in the [interfacers] section in addition to the [[RFM2Pi]] entry.
[[MoteinoUSB]]
  Type = EmonHubJeeInterfacer
  [[[init_settings]]]
    com_port = /dev/ttyUSB0
    com_baud = 38400
  [[[runtimesettings]]]
    pubchannels = ToEmonCMS,
    subchannels = ToRFM12,

Note that ttyUSB0 is typical for me, but your mileage may vary if you have other USB devices attached to your emonBase/emonPi.
I've also flipped this around and used the Moteino to listen to the LowPowerLab-based radios, while an RFM69Pi listens to the JeeLibClassic radios. I'll post about that soon.