Inspired by discussion on the Sharing heat pump data, An open heat pump dataset? thread and @frh's heat pump profiles example: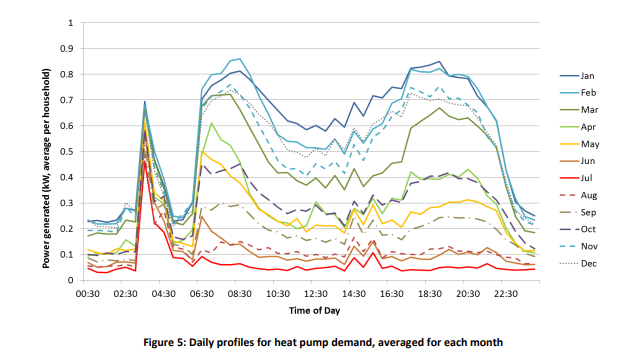 I've put together a new Emoncms app to generate a similar profile output.
The app is currently available in the master branch of emoncms for testing and is also live on emoncms.org. Here's a live demo: https://emoncms.org/midterrace/app/view/Profile and a couple of screenshot examples of it in action:
Heat pump electricity consumption
Resolution is set to 10 minutes here, we can see fairly steady but slowly rising heat pump electric demand through the average day in January. Shoulder months start to see heat pump demand fall off overnight and summer months show no space heating demand. The larger spikes show the heat pump heating hot water.
Lighting demand only
Something quite satisfying about this one, showing lighting demand growing as the hours of day light decreases. It looks like there's a data error perhaps in December as none of the other months show overnight consumption… or did we leave the attic light on for a whole month!?
Lighting, appliances and cooking
Cooking and overnight timed washing machine cycles showing up quite clearly here:
EV charging
EV charging showing a very strong over night off-peak pattern. We dont yet have solar unfortunately


Timing here influenced by 00:30 to 04:30 Octopus Go off peak timings.
All combined
It's interesting to see that the EV overnight charging completely dominates the overall profile. I guess that will have to change in the future when adoption gets into the high 80-90% ranges, otherwise we may invert the traditional demand curve… in the short to medium term it's beneficial of course as it's more likely to smooth out the overall demand profile.