I'm getting strange results in my feeds (and therefore My Solar app). I've been a long time user of this system who has just rebuilt a very old emonhub online instance to a new build running locally.
I seem to have everything setup correctly but I'm getting negative usage logged. See the following screenshot, it claims I'm exporting more than my solar PV is generating.
Any ideas, or have I stumbled onto a new scientific discovery?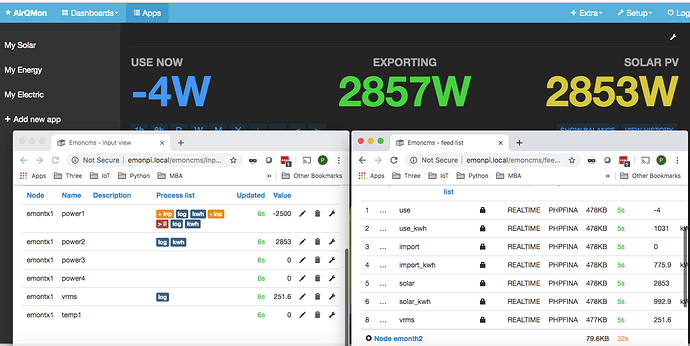 My system is configured with power1 around meter tail (net import/export), and power2 on solarPV feed. Therefore logic is:
add power2 to power 1 (usage)
log use
log use kwh
subtract power2
apply >0 filter
log import
Solar feed is simply:
log power2
log power2 kwh
In the example above, how on earth is -4 getting logged to use when power1 + power 2 = 353!
Any ideas?