For those following development of this appliance, it's nearing the design goals. Now the open eMonCMS graphing application interfaces directly to the ESP8266 on local WiFi. You can use it with or without connecting to an external service like eMonCMS. There are advantages to both. Response time generating local graphs is about 10-15 seconds.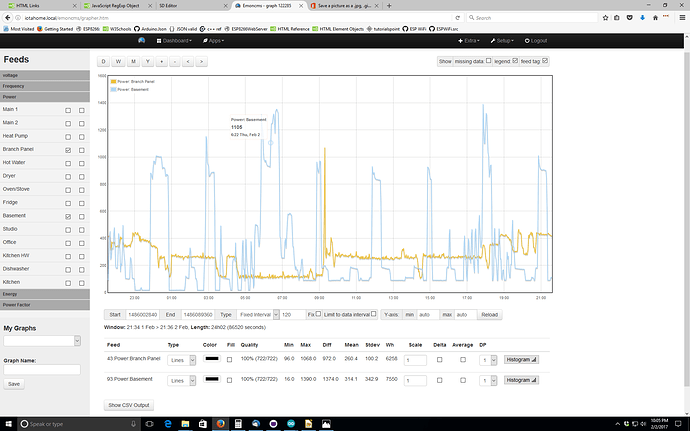 The ESP software runs without modification except that the
emoncms.org
url is hard coded. So it's a one line change. Several lines of Javascript could make that issue go away.
The board is coming in next week for the next generation hardware. The only custom piece is now a stackable seven channel ADC shield that could easily be produced as a commodity. It's 12 bit and supports either 3.2V or 1.2V range, so it will do the 1V output SCT013s as well as the better 33mv revenue grade CTs. The voltage of individual shields (maximum of three) can be different. Each has a plug for a voltage reference input so it will do three phase without anything special.
The ADCs stack beneath AdaFruit Feather ESP8266 and a data-logger feather board with an SDcard and real-time-clock. (<$25 for the pair). Hope to have this bundled up by the end of February, but the groundhog says I've got six more weeks.