I know we were chatting about whether the "Force" mode for DHW on the Ecodan was making it less efficient. I can't for the life of me find it amongst the threads this evening. There is so much wonderful conversation going on. So I'm giving up and posting a new thread, sorry.
Here is my system running yesterday where it forced the DHW on because I had DHW set to prohibited on the FTC5.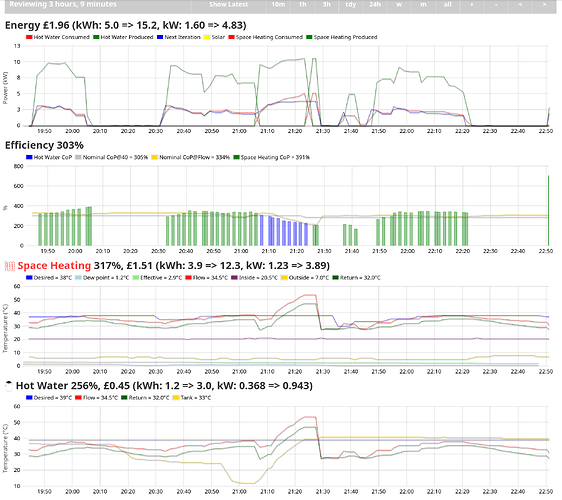 I've re-programmed my system today to allow hot water whenever the tank temp is 15 °C below the desired temp. Then I just push the desired temp to 10 °C so that the DHW doesn't come on until I want it. At that point I push the DHW desired temp up to say 40 °C and it begins heating the water. So basically it's still just an on/off switch for DHW but I've stopped using the force mode to achieve it. Here are the results from this evening: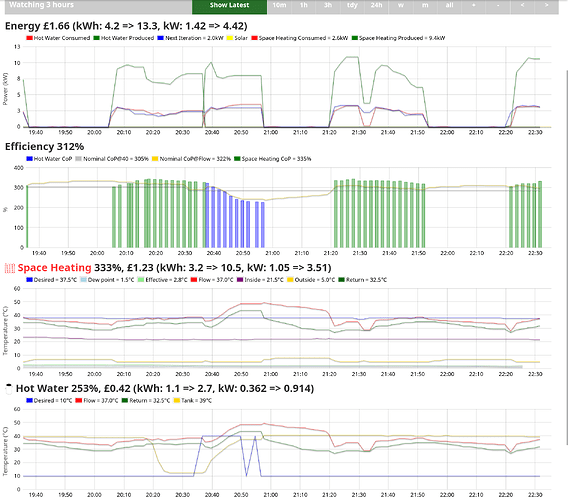 So in practical terms the behaviour was the same.
I'm going to leave it using this new algorithm and see if there are scenarios where the outcome is interesting. I should probably fix that little on/off flip at 20:54 though.