Yep, I believe Tim is doing that. I think this is an example: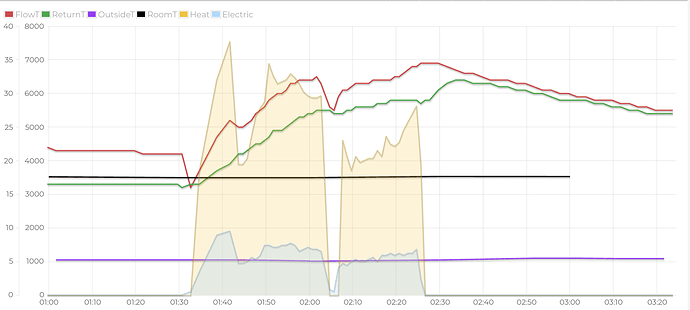 Here's me walking mine gently up from 25 °C to 40 °C over about 90 minutes this morning. This is why I like have "desired" in my chart because I can see the heat pump rising up to it.

There's a blip near the start for defrosting. There's a spike in the middle where it decided it had done heating, spotted the hot water could do with some love, did that and then came back to find the space heating could do with another 15 minutes.
Ah, interesting. Now I'm getting HeatPumpFrequency again (every 2 minutes) I've re-introduced my code that says "if the heat pump thinks it's time to stop bothering then simply switch off". Then it goes into it's "Let's wait until the return pipe on the heat pump gets cold again" (as a proxy for the radiators getting cold and calling-for-heat).