Hi
Just had OpenEVSE installed.
All working correctly from the OpenEVSE web page and I have initiated a charge.
Set up Emoncms and mostly seems OK but I suspect I may have misunderstood the instructions. Inputs are posting and DemandShaper OpenEVSE appeared as per instruction.
However when I open DemandShaper OpenEVSE I get this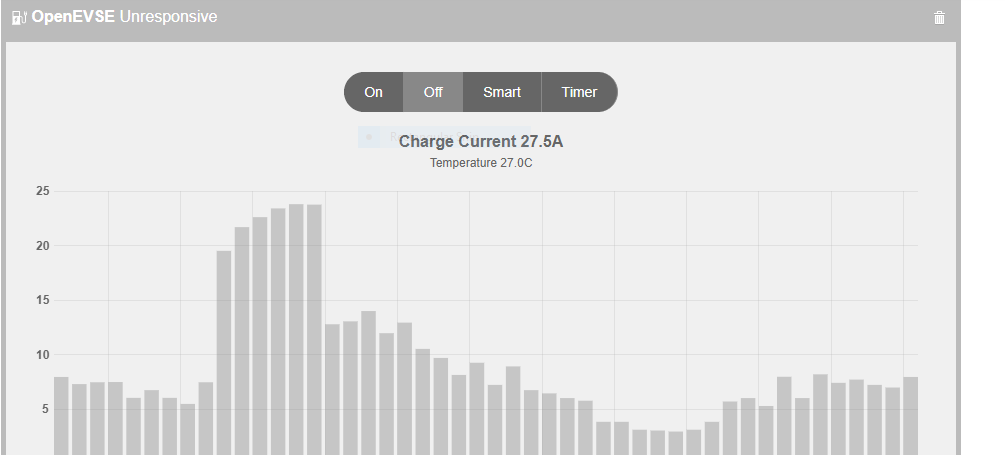 Searching forum I discovered that the I had the MQTT topic wrong so I changed it from openevse to emon/openevse.
Unfortunately it has not solved the problem. The odd thing is I set a manual charge and the charge current is showing in demandshaper!
In addition I have an error popping up in Inputs that I cannot get rid of. A post from @TrystanLea suggested
redis-cli flushall but that made no difference.

I suspect this may be caused by the initial MQTT topic error but I now have the 2 problems and I do not know what to do next. The error creating device is a real problem as it pops up so frequently I cannot make any changes in inputs.
Log attached:-
LAST ENTRIES ON THE LOG FILE


2020-09-13 09:30:39.169|ERROR|demandshaper_model.php|Saved to disk
2020-09-13 09:30:42.661|ERROR|demandshaper_model.php|Saved to disk
2020-09-13 09:30:48.055|ERROR|demandshaper_model.php|Saved to disk
2020-09-13 09:30:56.166|ERROR|demandshaper_model.php|Saved to disk
2020-09-13 09:33:51.781|ERROR|demandshaper_model.php|Saved to disk
2020-09-13 09:34:00.043|ERROR|demandshaper_model.php|Saved to disk
2020-09-13 09:34:02.973|ERROR|demandshaper_model.php|Saved to disk
2020-09-13 09:34:07.131|ERROR|demandshaper_model.php|Saved to disk
2020-09-13 09:34:11.271|ERROR|demandshaper_model.php|Saved to disk
2020-09-13 09:46:51.352|ERROR|demandshaper_model.php|Saved to disk
2020-09-13 09:46:53.771|ERROR|demandshaper_model.php|Saved to disk
2020-09-13 09:46:58.815|ERROR|demandshaper_model.php|Saved to disk
2020-09-13 09:47:04.874|ERROR|demandshaper_model.php|Saved to disk
2020-09-13 09:47:06.414|ERROR|demandshaper_model.php|Saved to disk
2020-09-13 09:47:09.706|ERROR|demandshaper_model.php|Saved to disk
2020-09-13 09:47:14.785|ERROR|demandshaper_model.php|Saved to disk
2020-09-13 09:47:17.543|ERROR|demandshaper_model.php|Saved to disk
2020-09-13 09:47:28.307|ERROR|demandshaper_model.php|Saved to disk
2020-09-13 09:47:31.806|ERROR|demandshaper_model.php|Saved to disk
2020-09-13 09:47:57.613|ERROR|demandshaper_model.php|Saved to disk
2020-09-13 09:59:21.271|WARN|emoncms_mqtt.php|Not connected, retrying connection
2020-09-13 09:59:21.301|WARN|emoncms_mqtt.php|Connecting to MQTT server: Connection Accepted.: code: 0
2020-09-13 10:00:45.522|WARN|device_model.php|Device model: Requested device does not exist for id=0
2020-09-13 10:37:13.371|WARN|device_model.php|Device model: Requested device does not exist for id=0
2020-09-13 10:42:04.680|ERROR|index.php|Not Authenticated|feed/list
Open EVSE services:-