Hello people,
I currently use the "My Solar Divert" application to monitor my off-grid system. I have a couple of information about my system.
I am completely off-grid which means I don't have any grid connection whatsoever. My system is a classic off-grid setup. Solar - Battery - Inverter.
The house gets energy from solar + battery. Excess solar is "diverted" or used in charging the battery bank and at night the battery powers the home.
They don't seem to be any application that supports this type of setup. I am using the My Solar Battery Application but there are parts of the dashboard I don't understand.
Below is a numbered annotation of the various part of the My solar battery application which appreciate some help with.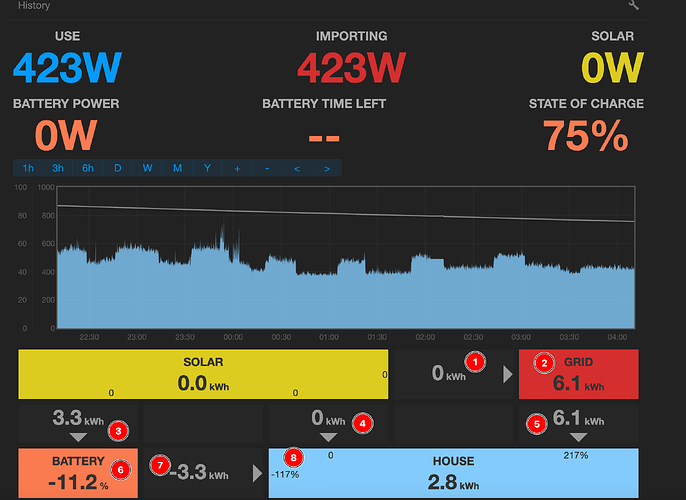 The battery (Number 2 in the screenshot) How is the percentage calculated? What figure is it displaying. Is it showing the percentage of battery discharge in kw relative to capacity?
Grid (Number 2) I don't know what this figure is meant for, I am completely offgrid so the grid feed during setup is always 0. Here I am seeing 6.1kwh, where is it pulling this figure from? is it energy usage?
There is a an error pointing to Grid (number 1) I also don't understand what that mean.
Number 3 is pointing to battery, is it showing the energy used in battery charging in kwh
Apologies if my questions don't make sense. I did try finding more documentation to read about the My Solar Battery application but I didn't see anything concrete. I would really appreciate the help.