Not sure if this is related but…
I just started tracking two new items using MQTT to publish each item (Key). And found something very odd! Every time a new value is published to those two Keys, two new lines are added to the Inputs web page. I think its created 50-60 new items.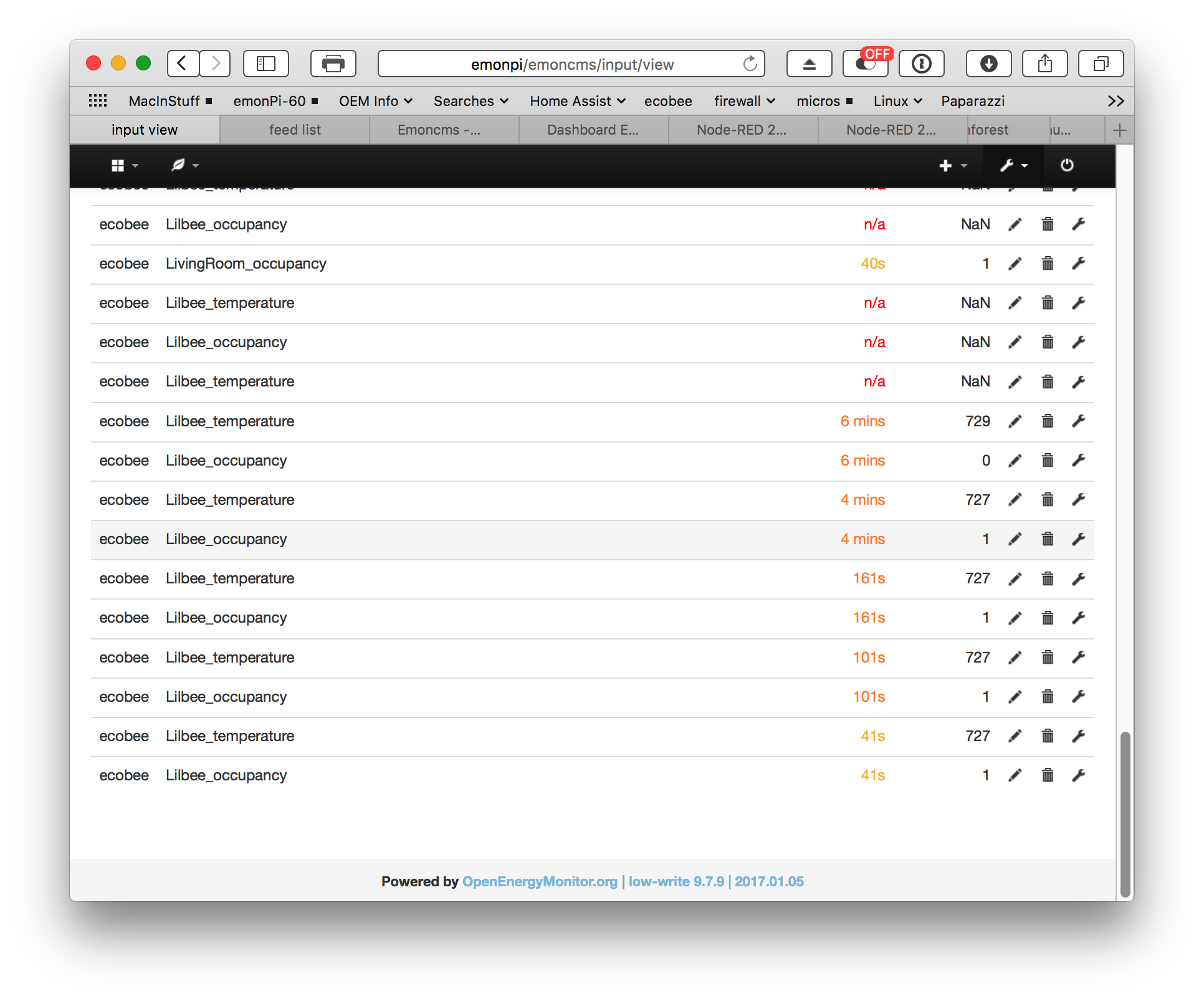 Not sure where to start looking for this one. Could this be related to any recent changes??
EDIT: This is with the current emonPi Update. And I did a sudo reboot.
EDIT2: This may be the issue or it could be me trying to delete the duplicate info:
[email protected](ro):~$ sudo journalctl -f -u mqtt_input -o short
-- Logs begin at Tue 2017-01-10 21:05:48 CST. --
Jan 10 21:21:26 emonpi mqtt_input[1703]: PHP Notice:  Undefined index: processList in /var/www/emoncms/Modules/input/input_model.php on line 147
Jan 10 21:21:26 emonpi mqtt_input[1703]: Notice: Undefined index: processList in /var/www/emoncms/Modules/input/input_model.php on line 147
Jan 10 21:21:35 emonpi mqtt_input[1703]: PHP Notice:  Undefined index: nodeid in /var/www/emoncms/Modules/input/input_model.php on line 145
Jan 10 21:21:35 emonpi mqtt_input[1703]: Notice: Undefined index: nodeid in /var/www/emoncms/Modules/input/input_model.php on line 145
Jan 10 21:21:35 emonpi mqtt_input[1703]: PHP Notice:  Undefined index: name in /var/www/emoncms/Modules/input/input_model.php on line 147
Jan 10 21:21:35 emonpi mqtt_input[1703]: Notice: Undefined index: name in /var/www/emoncms/Modules/input/input_model.php on line 147
Jan 10 21:21:35 emonpi mqtt_input[1703]: PHP Notice:  Undefined index: id in /var/www/emoncms/Modules/input/input_model.php on line 147
Jan 10 21:21:35 emonpi mqtt_input[1703]: Notice: Undefined index: id in /var/www/emoncms/Modules/input/input_model.php on line 147
Jan 10 21:21:35 emonpi mqtt_input[1703]: PHP Notice:  Undefined index: processList in /var/www/emoncms/Modules/input/input_model.php on line 147
Jan 10 21:21:35 emonpi mqtt_input[1703]: Notice: Undefined index: processList in /var/www/emoncms/Modules/input/input_model.php on line 147
^[email protected](ro):~$