Apologize for my very basic question.
I have this system since Jan. 2019. But i had a corrupted sd-card in my Raspberry Pi3 which runs emoncms. My installation until then has functioned without me having to do anything about it, so my knowledge is a bit rusty…
To start al over again, I downloaded the latest emoncms (emonSD-21Jul21.zip) and installed this on a new sd-card with Etcher.
My home configuration is a singe phase input, a solar system (and recently an EV).
I started the new setup, following the guide for Solar-PV (Solar PV - Guide | OpenEnergyMonitor).
I used the type 2 System installation.
Here i had my fist Issue; The guide speaks about CT1 for Grid input/return and CT2 for Solar.
But when I select emonCMS – Configure Device it says: "Type-2 template usingCT4 for Solar ". That was not my origional configuration, that had Solar on CT2.
Zo i thought that has maybe changed with this version of emoncms… So i connected the Solar to CT4.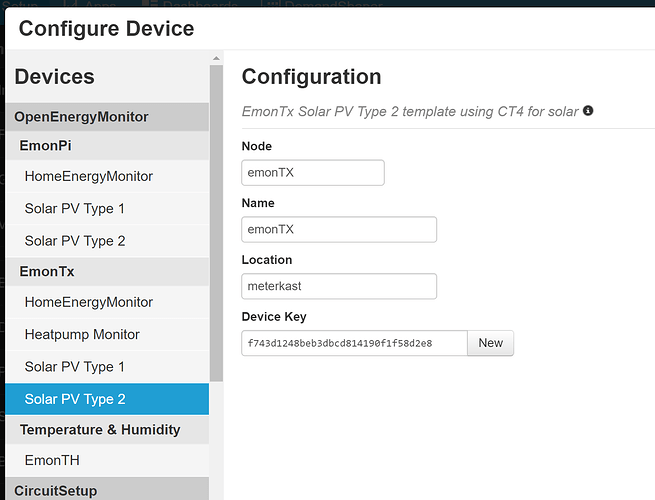 But when i continue with the setup (via this template) and i put the Write API Key in the emonESP config the connection between the two is established: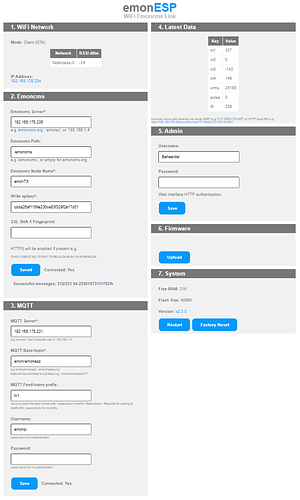 But i am not able to get the Feeds configured:

As you see the power1 and power4 are not there, consequently the Feeds page has no info.
( I started this process already several times (again flashing sd-card, also tried with the Solar on CT2 as it originally was… but without success)
Please, can anyone help me with this?
Kind regards, Bert