I have a dashboard created to run on an old android mobile ( in the kitchen) as shown below: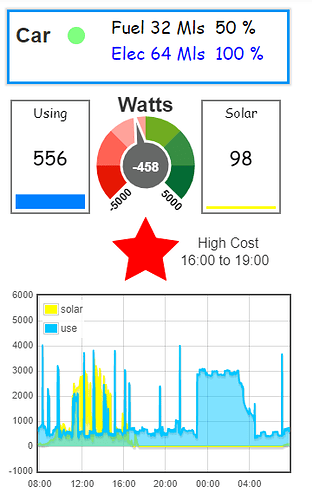 It is an attempt to guide the household as to when to do things - washing machine/tumble dryer/ charge the car ( I have a BMW i3 REX). The star changes colour depending on the comparison between solar and import - giving a visual indication of when we can use electricity. Red we are importing, Amber - stick on one more machine , yellow we can charge the car etc. The graph below shows what we have used when and as it is winter solar is not making much of an impression. Although in this case it might have been better to charge the car over lunch.
I am using Agile from Octopus hence the charging of the car overnight during the winter. I should really go for a charger which allows me to charge when it is best for me - I need to save some money to purchase it. Currently we use a 13 amp charger and it works great for us. However it would be best if the decision to charge was automatic and we didn't have to visit the car to change charging times. However I know the answer for this - just need the money to buy it.
I would like to take the Agile cost and lay it on top of the graph rather like the excellent Octopus App. Then we could make a conscious decision to use electricity in the high usage parts rather than remembering it is between 16:00 and 19:00.
So my question is:
Has anyone taken a feed from Octopus and created an input/feed in EmonCMS? I can see it is possible as the Octopus App does but wondered if anyone has guidance or instructions how to do it before I try and work it out. I was imagining copying the BMSi3 input code and changing it to point to Octopus but it seems more complicated from a timing point of view.
So any guidance/advice would be most welcome.