Hi,
First of all, thanks for all the nice Open Source hardware and software.
In order to discover the energy monitoring universe, I have recently bought the following components
1 x emonPi
1 x emonTx V3
2 x emonTH V2
5 x 100A max clip-on current sensor CT
2 x AC-AC Power Supply Adapter - AC voltage sensor (Euro plug)
1 x 5V DC USB Power Adapter (Euro Plug)
2 x RJ45 Encapsulated DS18B20 temperature sensor
Everything is working fine for RF connectivity (emonTX → emonPi and emonTH → emonPi), temperature monitoring (local and remote with emonTH) and single phase CT monitoring.
But I am not able to set up my 3-Phase (french) based energy monitoring with emonTx, even after having crawling the guides and forum. I am a rookie in electronics and electricity, that may be the reason

For the time being, I have
updated the emonTx with the latest 3-Phase firmware
plugged 3 CT into the emonTx "normal" CT inputs and put them on each phase, right after the ouput of my main electric meter.
plugged the AC Voltage sensor on an power outlet connected on one of the 3 phase
Data is now sent by emonTx to emonPi with a "3phase" prefix (it was "emontx3" before the firmware upgrade), with those keys : powerL1, powerL2, powerL3, Vms (and others).
I didn't proceed with any calibration, and I don't know right now on which phase my power outlet is connected.
The problem is that I really do not know how to validate my setup, as the values provided by the emonTx seem incomprehensible to me : L1 and L2 are switching from positive to negative values, and L3 is always postive.
Here is the graph of powerL1, powerL2, powerL3 and Vms for a laps of 2h30.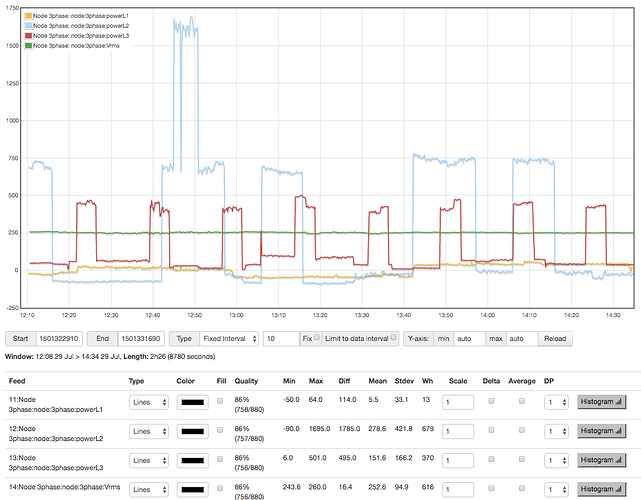 Can someone help me understand these values, and show me how to finalize my setup to record the whole house and and per phase energy consumption ?
Regards,
Charles