Hello all,
Newbie and first time poster to the forum and I'm soo not technical. We've had a emonPi connected to a couple of emonTHs for the last couple of months (all out of the box configuration), but I've just moved to try and get our newly installed solar to be be monitored via a emonTx, our electric supply is via 3-phase and I've had a job trying to find a definitive resource on the correct way to connect it and was hoping someone here to validate that it is correct?
I read a few posts but mainly a post from last year that suggested the following;
First, you must find which phase the a.c. adapter is on.
It does not matter whether that is the brown, black or grey phase at your meter, but the other two ct's must follow in the correct sequence. To the sketch, these are all the same:
a.c adapter & CT1: brown, CT2: black, CT3: grey
a.c adapter & CT1: black, CT2: grey, CT3: brown
a.c adapter & CT1: grey, CT2: brown, CT3: black.
My setup is;
L1 is Brown : CT3
L2 is Black (A.C Adapter on this one) CT1
L3 is Grey CT2
I've created a graph of the feeds;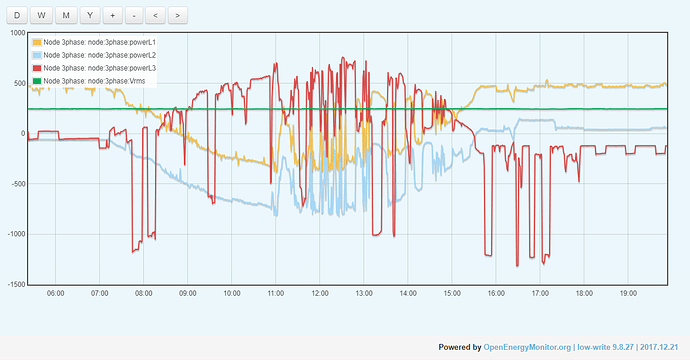 The inputs are simple and only contain Log to Feed for each.
Have I connected the CT correctly and does the graph look as it should?
Many thanks in advance.
Tony