For a while now I have been pondering writing a module to create 'responsive' dashboards, ie dashboards that work on both desktop and mobile tablet devices, scaling and rearranging elements as needed to display nicely no matter what form factor device you connect from.
I was really pleased to see the thread on Node-red ui for emoncms dashboards That initially looked excelant, and the examples in the thread are just fine, but Node-RED shows its weaknesses when trying to show dashbaords with widgets of different widths, eg;

When you reduce the width of the screen the widgets do not change width or location;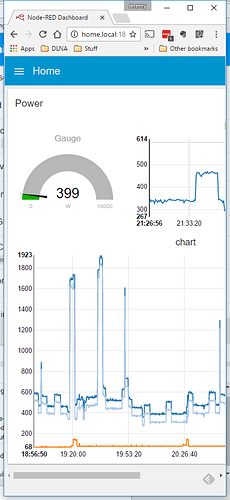 as opposed to what I would expect, eg something like;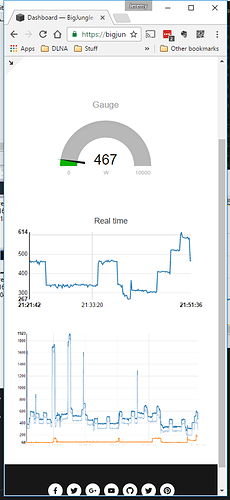 see
https://bigjungle.squarespace.com/dashboard
.
So essentially I am back to my original plan of updating EmonCMS to support responsive dashboards.
What I was thinking was maybe the dashboards could have a mode where the positions/sizes are defined in terms of columns as you do with Bootstrap. How difficult would this be? What are the blockers/challenges? Is it best to do a new module or have a switch in the current dashboard module? Would this be useful to others? Obviously this would also need to be completely backward compatible in terms of editing, there are going to be folks that want the exact control the current editor offers.
As a tie in it would be really cool if the apps could also use these dashboards either natively rendering them (ie the a JSON definition of the dashboard is sent to the app and the app natively renders all the widgets) or just the dashboard can be an embedded webpage.
Any feedback is appreciated.