Hey guys, I'm new here so hopefully this is the correct place for this.
I'm currently trying to make my own custom Energy Monitoring hardware in order to meet my own needs & requirements as well as make a potential product. The entire design will be open source (I'll only sell assembled and tested hardware if it works) and I plan to use EmonCMS as the web application backend (I'm an embedded hardware guy - not a web dev). I've already got a fair amount of the design in the works but I'm running into feature paralysis - I'm not sure what others want and/or don't want at this point. So, basically I'm asking for feedback on my planned system design, recommendations for additional features, or advice on removing unwanted features.
I'm comparing my design somewhat to this product.
My design currently:
Two MCU's - an ESP32 for wifi web connectivity/user interface and a STM32 for power measurement and calculations
Capability to measure current on 20 independent channels - 20 CT's total
15 of 20 CT's will be fixed at 30 amps (designed for YHDC SCT-006 CT's ).
5 of 20 CT's will be adjustable for high current circuits - up to 80A
Line voltage measurement through 12VAC XFMR but possibly direct line voltage measurement (like an oscilloscope) using certified scope probes - allowing future non-invasive load monitoring features
Li-ion backup battery capable of powering system for several hours without mains connection
OLED display & buttons for on-board user interface
SD card for data storage
Fully broken-out programming & debug headers for both MCU's
Onboard temp,pressure,humidity sensor
approximately 10cm x 10cm size
Some possibilities in question:
Circuitry to drive external relays?
Circuitry to interface with RS485,ModBus, or other industrial protocols?
Here's the system diagram as it stands now: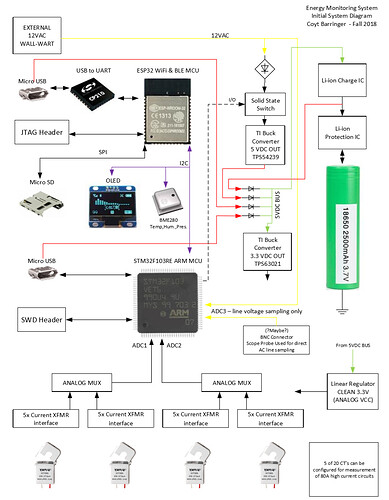 And a picture of the hardware as it stands currently: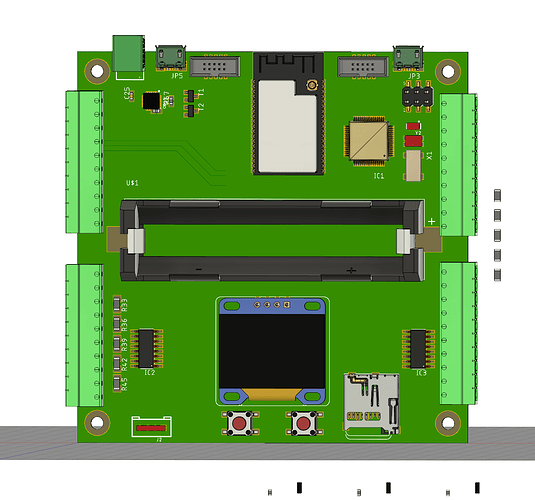 This is actually not my first attempt at an energy monitoring system. I've documented a previous system on my website here. Anyway, please let me know any thoughts, ideas, or criticisms that you may have. Thanks!