Hi,
We use emoncms to log daily data sent from Elster A1140 meters, via ftp and the emoncms API.
It all works smoothly but I am stumped on an error that is happening using the +input function to sum a number of inputs.
When looking at the processes for the relevant node under the input tab, the sum of the 'latest values' for the three feeds is different to the value being recorded by the 'log to feed' process. e.g. 14.65 + 6 + 30.01= 50.66, but log to feed is showing 41.05.
Log to feed is set up as realtime and 10s values.
I have tried to cut and paste a screenshot below.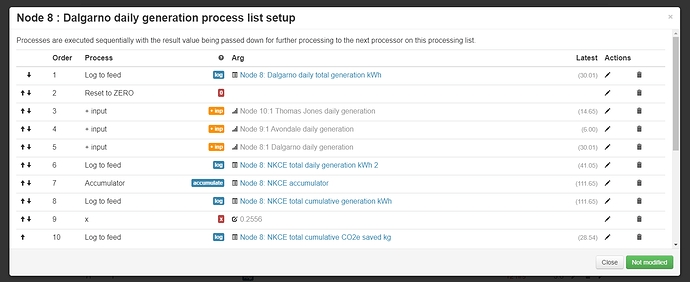 I am sure it is something simple but can't figure it out!
Thanks for your help.