Hi,
I have a EmonTx transmitting directly to Emoncms.org.
I was wondering why I was getting 'plateaus' on the app view of my data, then discovered the missing data feature on Econcms data viewer. This shows that input 4, high res, data (Green on the trace below) is being transmitted/received only intermittently. The noticeable thing is that the on/off interval is very regular This is very evident during the night as it records solar energy so flat-lines.
Plugging the CT into a different input (orange trace) restores unbroken data transfer.
The red trace on another standard input is continuous throughout.
It appears that input 4 transmits with a different quality than the other 3 inputs - 44% verses 90% on this trace - which seems wrong, as I would expect them all to be the same quality. Having said that this is the 2nd trace I've put on this post and I noticed the qualities for the previous trace were 31% for input 4 and 61% for the others so clearly the quality is changing over time.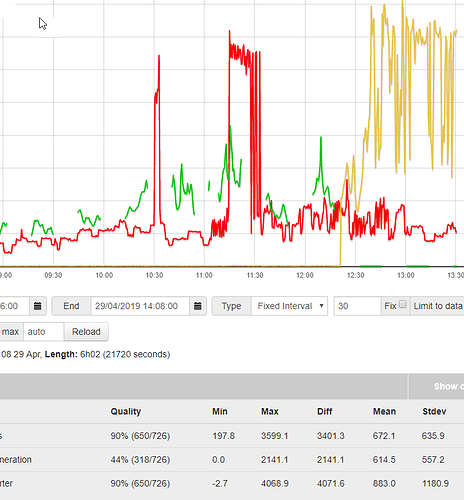 Is there something wrong with the EmonTx channel or am I misunderstanding how the data transmission works?
Thanks for any pointers you can give.