Continuing the discussion from emonSD next steps and Better handling of files in tmpfs /var/log
@pb66 I've been looking at this as the log folder filling up is teeing me off.
Whilst it appears to do what we want, I really do not like the mixing of systemd and cron. It works more by luck than design I fear, and that often means it will break easily

.
Stage 1 - I have installed your fork but I see this


The red I think means it is not accessible / an orphan. Am I right? If so how do I fix it

[email protected]:~ $ df -h
Filesystem      Size  Used Avail Use% Mounted on
/dev/root       3.9G  1.6G  2.2G  42% /
devtmpfs        484M     0  484M   0% /dev
tmpfs           489M     0  489M   0% /dev/shm
tmpfs           489M  6.6M  482M   2% /run
tmpfs           5.0M  4.0K  5.0M   1% /run/lock
tmpfs           489M     0  489M   0% /sys/fs/cgroup
log2ram          40M  1.4M   39M   4% /var/log
tmpfs            30M     0   30M   0% /tmp
tmpfs           1.0M     0  1.0M   0% /var/tmp
/dev/mmcblk0p1   43M   22M   21M  52% /boot
/dev/mmcblk0p3   11G  119M  9.7G   2% /home/pi/data
tmpfs            50M  8.0K   50M   1% /var/log.bak
tmpfs            98M     0   98M   0% /run/user/1000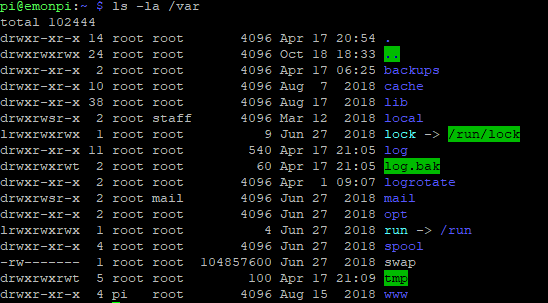 I note there is a 't' in the permissions string - don't know what that means.