A quick post to introduce a new module on emoncms.org which can be used to setup a weekly email report of home consumption and solar generation if you are monitoring solar.
The module can be found under the Extras tab top-right: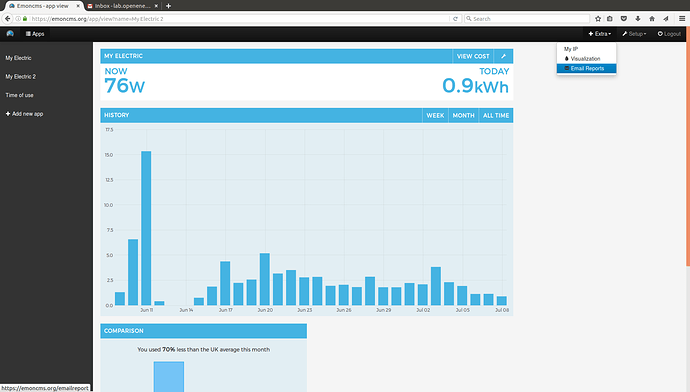 In the configuration interface you can enter an email title so that you can differentiate between report emails from different emoncms.org accounts such as a home energy monitor account and a office energy monitor account.
Up to 5 email addresses can be entered for work colleagues, family members, friends.
The email generator needs a cumulative kwh consumption feed (and solar if applicable), the same type of feed as used by the emoncms app module: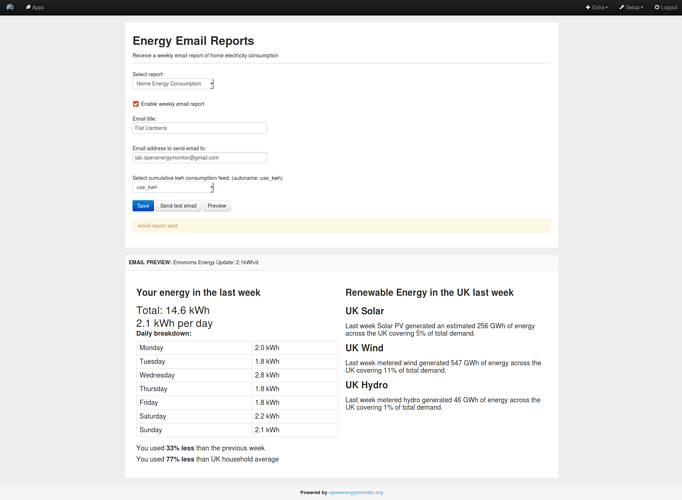 Click on 'Send test email' to check that it all works.
The weekly process that runs this at present runs at around 9am on Monday UTC time.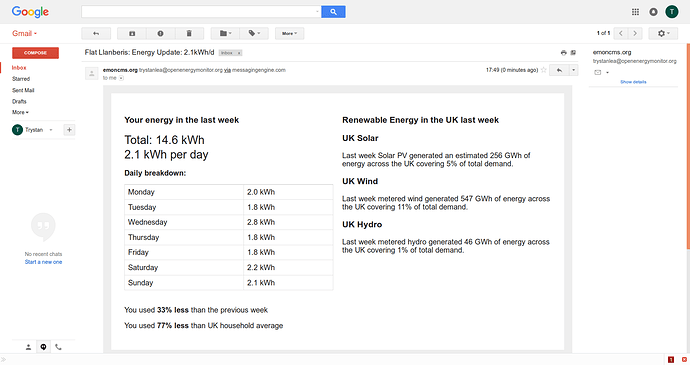 UK renewable energy
To make the emails a bit more interesting I've added the section on UK renewable energy in the last week which gives a quick overview of how much solar, wind and hydro was generated. I will add the option to hide this section for those outside of the UK where its less relevant.
Solar PV
There is a provisional solar pv report which Im still working on, I plan on adding imported energy readings and daily self consumption statistics.
Source code
The source code for this module is on github here: GitHub - emoncms/emailreport: Emoncms email report generator
Emails are currently sent using the emoncms.org email batch process, the module will not currently work on emonpi/emonbase installations but Id like to add support for this.