Hello,
I have a couple of emonPi including a couple of newer ones (ordered a month or so ago).
The first one (fresh from the box, no firmware or system update) measures CT1 and CT2 in a fairly stable way:
But the I have an issue with the second one where CT1 and CT2 measurements are jumping around from negative values up to positive values (note the Y scale range).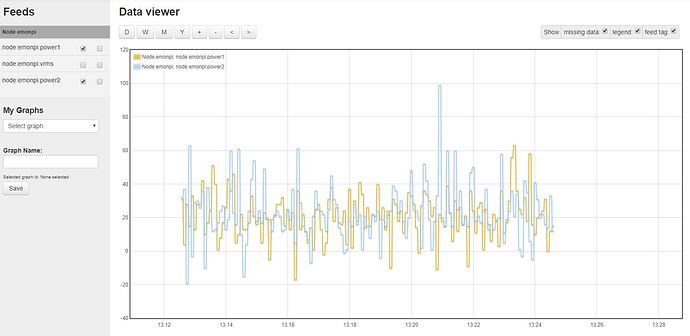 This unit has been being used for about 1 month and I made some changes to the unit to have a different hostname, etc. but nothing that would trigger issues like this. Now, the system was on a power strip that tripped while in use and was subjected to hard power reset. It was also updated using the web interface for both emonPi update and emonBase update.
Any idea where this issue would be coming from?
I was thinking of swapping the SD card from the working unit to the other one to see if it is a hardware or software issue. Would that be a good test?
Thanks,
Perig