This is probably a simple question so I'm putting it under 'Getting Started' even though I've had my EmonTX-v3's for quite some time.
I'm actually trying to make sense of the data for the first time since I first installed all this stuff and got it running. I have qty 3 EmonTX3's with radios, CT's all bought from OEM shop. Wall Warts are a Digikey unit that we deemed to be sufficient in another one of my posts. ("TDC Power DA-10-09")
So I have the high current CT's connected to my Mains L1/L2 (north america, split phase 240) and some of the lower current CT's connected to various circuits, including my electric hot water heater (just L1) and my Air Conditioner (L1 and L2).
First things first. My Air Conditioner, a 2.5ton unit, is reporting approximately 650-700W per leg which is approximately 5.5A @ 240V. A clamp meter on the same legs at the same time, is reporting 6.7A. That seems outside of the 'error range' for either device.
Second, my Hot Water Heater is showing 1359W per leg, but my Mains L1/L2 are each reporting 550W. I've either discovered a magical source of free energy, or there is something wrong. Before I start writing the patent, I figured I'd try to see where the disparity is.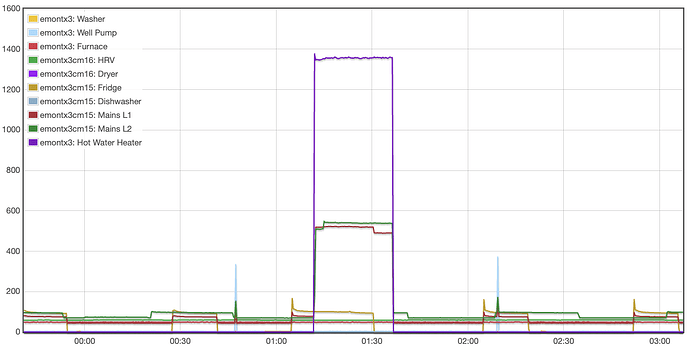 Mains L1 is connected to P2 (emontx3cm15)
Mains L2 is connected to P1 (emontx3cm15)
HWH is connected to P1 (emontx3)
AirCon L1 is connected to P2 (emontx3cm16)
AirCon L2 is connected to P3 (emontx3cm16)
Given that I have the recommended CT's and I don't think I've done anything funky during the install, does anyone have any thoughts?