Continuing the discussion from Publish to MQTT Issue:
I am experiencing the same ERROR: Could not save processlist. undefined disappear issue. I created a simple nodered flow that publishes gallons to emon/water/gallons. I can see the data on the Input View page:

 
and I can do a MQTT subscribe and all the data appears as expected.
But when I click on the Spanner/Wrench, create a feed and click Changed, press to save I then get this error: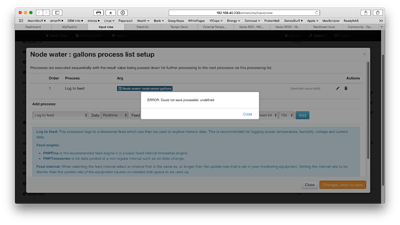 A reboot seemed to fix this last time, but I'd rather grab some troubleshooting info before I reboot.
This is an emonPi with the emonSD-03May16 image.
Emoncms Version low-write 9.7.2 | 2016.07.04
EDIT: One other piece of info. When ever I go thru the above steps it partially creates a Feed but with no Values.
EDIT 2: updated above images to higher resolution.