I am trying to publish two items to MQTT and I think I am doing something wrong. This is an emonPi with the emonSD-03May16 image. And I am using Node-RED to publish the two items.
When I look at the Input View via 192.168.40.230/emoncms/input/view I see one value for a split second and then it is replaced by the 2nd value.
The first value is published to emon/RF1/power1: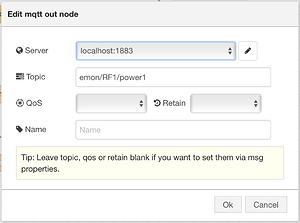 The second value is published to emon/RF1/energy_kWh and I also tried emon/RF2/energy_kWh: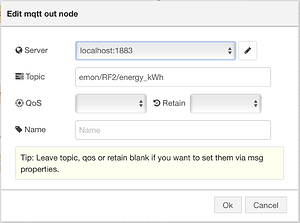 Both value are published as a string and I also tried publishing them as a number.
I can MQTT subscribe to both items and both items appear as expected.
So what am I doing wrong in the Input View page? The only thing I can think off is I need to add something to the emonhub config file but I cannot determine what should be added.