Hi, I have set up 2 emonTX4s, both connected to wifi with good signal strength and both are accessible via their assigned IP addresses and I do see data. However, when I'm in emonESP and enter the info on the emonCMS section, it never shows as connected. I have copied the read & write API key a couple of times to make sure there were no entry mistakes and even generated a new API key to try that. Still not connecting. Inputs do not show up in emonCMS as a result.
Note - I did not enter username and password in the Admin section of emonESP as I assumed this is for accessing the emonTX4, not emonCMS.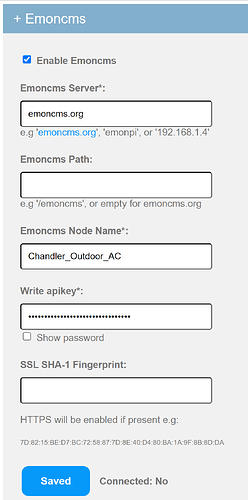 Any suggestions as to what to do next?
thank you,
Gordon