Hello,
I've been happily using emoncms on an EmonPi for around 5 years now. I'm pretty sure I have the CT clamps in the right place as the usage and generation readings seem to be correct. However…
We've recently changed our hot water system to be purely electric. The heat is stored in a Sunamp heat battery and during these winter months we are charging it off mains electricity on a timer. The issue I have is that when the timer kicks on on the diverter, the emoncms shows a negative reading.
It's puzzling though, My feed for "House Power" is equal to the amount being diverted plus the load from the house. At the same time, the "Solar" feed is negative to the amount being diverted. There is another cable I could probably connect a CT clamp to to read the amount diverted directly, however there are obviously only 2 CT inputs on the emonpi itself. Would I need to use the LED detector on the meter to do this properly? Is there another way using clever maths? Here's an example from today. You might be able to see a tiny positive reading from the Solar feed (it was a cloudy day) and obviously the massive negative reading once the diverter kicks in.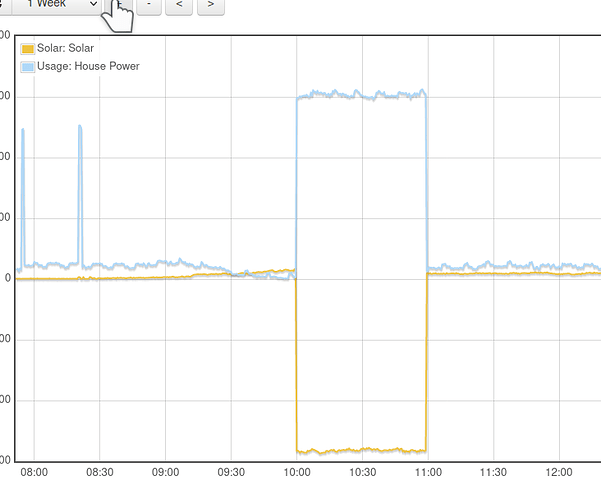 The main issue with this is that it's messing up the readings from in the Octopus Agile app, which has - up until now - given me fairly accurate readings on what I'm actually going to be paying for electricity on a daily basis.
Happy to post pictures of the positioning of my CT clamps and other various wires, but not sure what to post - to my untrained eye, it's a bit spaghettified in there

Many Thanks
Jerry