I've just started my journey into RS485/SDM120 /Modbus. I've got a 6 year old eMonPi/3x emonTx/2x emonTH and a bunch of other integrations. All work great.
I've installed 2x SDM120 and I can get data out of them via a USB RS485 for a period of time. However, two days in and I've had to reboot the emonPi 5 times as the feed just stops working.
The error in emonHub is
2023-07-19 13:27:30,093 ERROR    SDM120     Not connected to modbus device
2023-07-19 13:27:30,094 INFO     SDM120     Connecting to Modbus device=/dev/ttyUSB0 baud=9600 parity=none datatype=float
2023-07-19 13:27:30,094 ERROR    SDM120     Could not connect to Modbus device

Resetting USB don't help. Restarting eMonHub doesn't help. Only a reboot gets the feed running again.
Once rebooted, data comes in again for an unknown amount of time until it stops again.
I don't think it is the wiring, however they are wired in series like this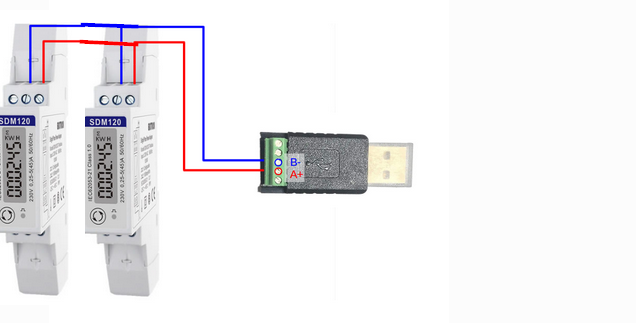 The USB RS485 has a ground pin, there wasn't any documentation on what do with that so I've left it.
I am wondering if the baud rate is the issue, the docs show a 2400 baud rate, however the SDM120 defaulted to 9600, so I changed the emonhub config to match.
Has anyone else experienced this? Or have any suggestions on improving reliability? (Without changing back to CTs

)