I'm on a grid with 230VAC @50Hz. The local grid has two phases (L1 and L2) at 230VAC referenced to ground. There is also a "neutral" wire which is 0V referenced to ground.
I have two meters. Meter A is connected to both phases and the neutral wire (2F+N). No fancy stuff for meter B, this one is connected to one phase and the neutral wire (1F+N). The schematic shows the phases (black/brown) and the neutral (blue) wiring.
With a volt meter, I do not measure 400VAC between L1 and L2 (as would be the case for 3F+N systems). The volt meter measures 0V difference between the two phases. So quite surely, they are not 120 degrees apart. So, I was inclined to think these two phases are actually "in phase".
After measuring these phases with an oscilloscope, I saw they are not in phase, and neither are they 120 degrees (6,6ms) apart. They are about (3,3ms) apart, i.e. 60 degrees.
I have an EmonPi and EmonTx with 9VAC reference on L2. This happens to be the phase the wall socket is on. On L2, I normally get a positive consumption, unless I activate an induction cooking plate (connected to both L1 and L2). If I switch on the induction plate, the measured power on emonpi current transformer 2 goes negative.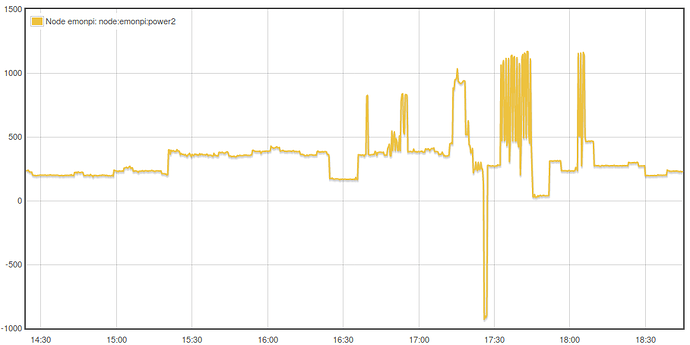 Anyone has an idea why this faulty measurement occurs? Something wrong in the way I've connected CT2 of the EmonPI? Or anything else in the setup?
I'm quite sure the CT's are connected on the phase wire, not on the neutral. Perhaps real vs. apparent power has something to do with the (inductive) load?