Ive scoured the forums here for an hour on this… nothing seems relevant.
A friend has a Nibe HP (10 years old) in the large , well insulated house they bought last year.
Have found the elec bills very painful - > £10/day
So with my emonCMS experience - i wired up loads of sensors to look.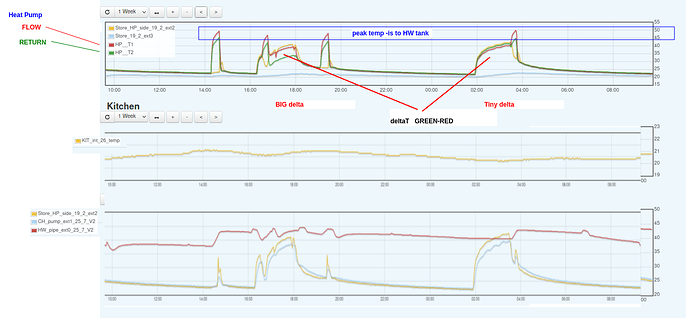 I'm hoping that tweaking down HW temps and adjusting the Curve will do the business.
But -that deltaT variation…
The one HP does HW too, with a valve. (hence the spiky parts on the graph)
The NIBE controller is SMO10 and HP's outside F2015 - both no longer sold.
There is a 300 litre buffer tank in the CH - 3 pipes: bottom: 1 connection to RETURN of both HP and CH; top 2 pipes, in series between HP FLOW and the CH pumped FLOW