Mystical problem - sometimes negative power.
We have got an electric car in the household.
A Renault Zoe that can charge via 3 phase charges (11 KW) on a 3 x 16 A fuse group.
Our emonPi has so far only shown positive power, except for a less negative display when there is almost no load on the phase (3) where it shows -50 W (oven and stove). If I completely turn off the group, it goes to 0.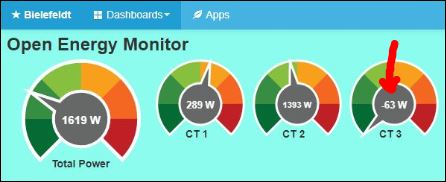 With the connection of the Renault Zoe charger, we find that Phase 3 goes negative, while it is positive when our water heater is active. The Water Heater run at two phase (3 KW)
Below we see that when Renault Zoe charge, goes Power 3 negative.
When the water heaters run, the same Power 3 goes positive.
All in all, it gives an incorrect total Power (123)
Power 123 is a virtual sum of Power 1 + 2 + 3 (See feed screen dump)
It is incomprehensible to me, hope someone can explain the mystery.