Continuing the discussion from New install - Do I need to calibrate my CTs or Feeds?:
In the related topic I explained that my solar panels seemed to be able to produce with moonlight

Robert explained that what I have is called 'circulating vars'(Volt Amperes Reactive)
To put simple, at night you see still some watts flowing in and for sure this is not the case since it it is pitch-black outside. Sometimes this can happen when you have 'noise' near your CT clips (you can test by unclipping and hanging them in the air and move around the spot and see if you get some reading or a nice zero like me).
In my case it isn't noise, hence my totaling for the day is over estimated by x watts * hours night time.
Since there isn't much I can do, I decided to try to shunt that out and with the help of Paul I finally edited my process list like following image and it works quite well for me.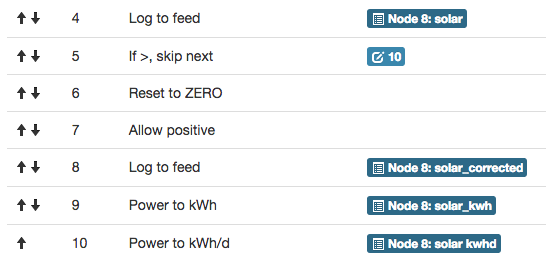 You start the usual logging to a feed, then set a condition with a threshold (in my case 10W, you have to set this according what you have at night) and if below this threshold, the feed is reset to zero. If you are above the threshold, you do nothing. The result is passed to a new logging of the feed with another name … and from there you can do whatever you want.
I added 'allow positive' since with moments (no clue why honestly) it records negative values … and for what I know, my panels don't generate solar rays (yet)