I have a solar installation that I want to use emonpi to monitor three basic values:
Live solar export to the grid (plus end of day kwh)
Live import from the grid (plus end of day kwh)
Live consumption use (plus end of day kwh)
I am using two solar inverters of which dont fit in the standard setup of version 1 or 2 in the emoncms setup instructions. One of my inverters has a grid fail battery backup system as well it can generate solar back to the load circuits or even export back to the grid. I have though about putting CT sensors on the output of the inverters but as one of the inverters is a hybrid with grid fail system it makes it too complicated to measure it through the emonpi.
I am thinking that I should be able to calculate the solar export , grid import and consumption just with the two CT sensor values
Below is my current setup where CT1 is placed on the main grid supply. Here I want to measure grid import and grid export. CT2 I have placed on the load circuits. Here I want to measure consumption use.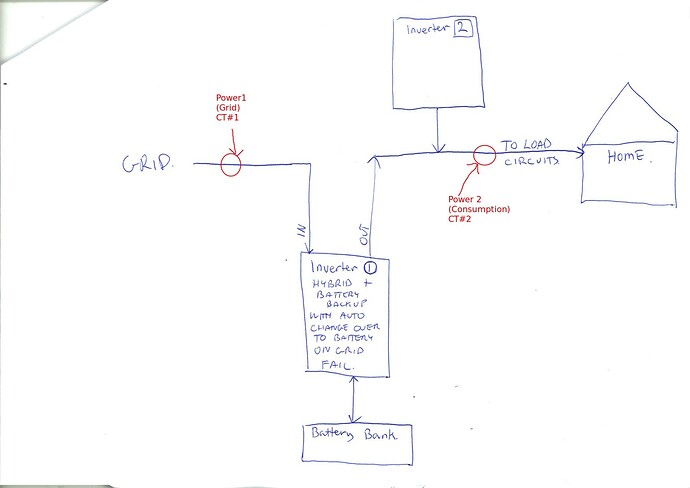 I have the AC power supply connected, and the CT sensors connected in the correct direction. When looking at emoncms input data, CT 1 gives raw data of positive when importing from the grid and negative when exporting to the grid.
My problem is how to setup the feeds so that I can view in emoncms via the default solar dashboard so I can see my solar export, grid import and consumption? So far I cannot seem to get it to work.
Has anyone done a setup similar or encountered similar problems? I would appreciate if anyone can share their solar feed setup