Hello everyone!
I am trying to run emoncms on a web hosting server running plesk.
After lots and lots of changes in settings.ini and endless hours, i have managed to have it running with its database and have 1 input and 1 feed working fine.
However i can not seem to make any module (dashboard, graph) run or load when i login on the site.
All the modules appear in components section in admin.
when i try to view the feed i get this message: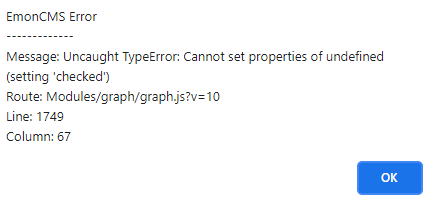 What am i missing?
Server is running MariaDB and PHP 7.3.30
Emoncms stable 10.7.7 (also tried release 10.5.5)
Directory structure is:
emoncms: /var/www/vhosts/emoncms.test.com
modules: /var/www/vhosts/emoncms.test.com/Modules
openenergymonitor: /var/www/vhosts/openenergymonitor
data: /var/www/vhosts/emoncmsdata
Thank you for your input, it is greatly appreciated!