Hello everyone. My first post here, total newbie to the emonPi / open energymonitor world.
My Pi, 6 x DS18B20 sensors and RJ45 terminal block breakout arrived this morning and I've been getting it all set it to test it.
I've been able to add each of the 6 sensors to emoncms as t1,t2,t3 etc but I'm not sure how the numbering relates to the breakout block. For example, is t1 = the sensor connected to the lower left of the breakout board, t2 middle left, t3 top left, etc?
I will be using the sensors to monitor different parts of my heat pump / underfloor heating system, so will eventually want to name each input something like 'flow' , 'return', 'outside air', etc but obviously the first step is to know which one is which in the cms.
Also, as a test I've placed all 6 sensors in to a cardboard box and left them logging for 30 mins or so. Is the variance between t6 and t5 (purple and green) of around 0.3deg within the expected tolerance?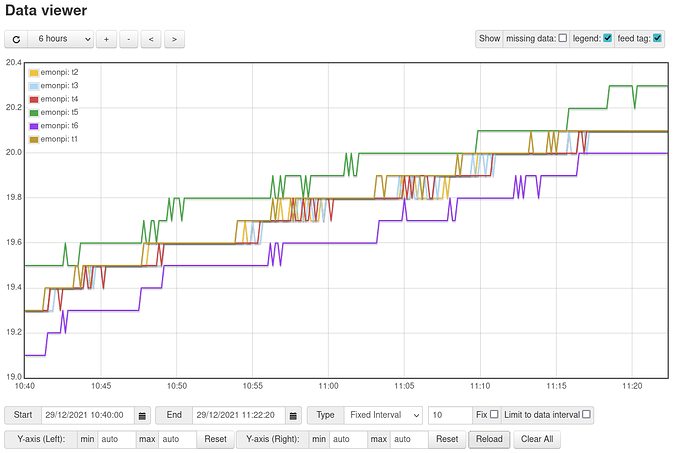 many thanks, I'm sure this will be the first of many questions!