I have added a way for RFM69Pi users to easily update firmware on the unit directly from Emoncms.
The Emoncms update is currently in the 'master' branch, it will be merged into stable once further user testing is complete.
Update: It's been merged into Emoncms stable branch, see post below
---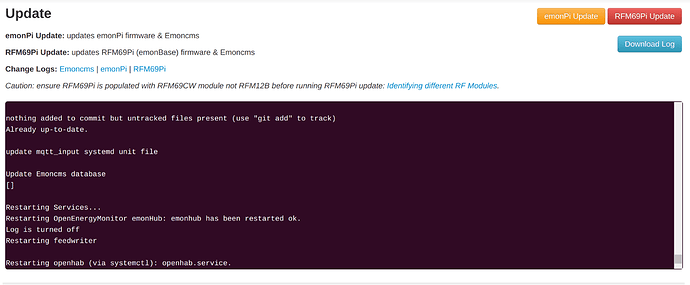 https://github.com/openenergymonitor/emonpi/blob/master/rfm69piupdate.sh
As you can see from the rfm69pi update script the firmware update comes directly from RFM2Pi github releases. The firmware is compiled in the cloud using TravisCI and platformIO, see blog post.
Using GitHub releases for firmware deployment has several advantages:
Gets around the problem of users having non-commited (custom) changes in their local repos, this stops the repo from updating
Each firmware release is tagged with a version number and description which is linked back to a specific commit so we can be totally sure of the version
Version number can be displayed in the update log
The github releases pages serves as a firmware release log
Fimware can easily be rolled back by specifing a version number of release
In the future I would like to move emonPi firmware deployment to github releases. It's already used by emonTx, emonTH and emonupload tool: