I've been using my EmonPi for about 2.5 years with success. However, from time to time (every few weeks or so) it would become unreachable. I was writing a cron script to test the network, and if it died either restart the interface/networking/emonpi (I was still testing) when I realised my powerline adapter was dropping packets. So I physically removed the powerline adapter and started using the wifi. When I did, my power readings started going haywire.
I'm assuming I've corrupted data somewhere, but I can't figure out where. I thought maybe one of my CT readings are coming in inverted, so I tried changing it in emonhub.conf but that wasn't right either (I've changed that back).
Here are what my consumption looks like on a normal day (before the problem), what it looks like today, and the solar reading from my inverter for the same period. Notice the solar in the haywire result is a completely different shape at the end of the day.
What a normal day looks like:

What today looked like:

The graph from my inverter from today. Notice that the shape of the graph is different at the end of the day.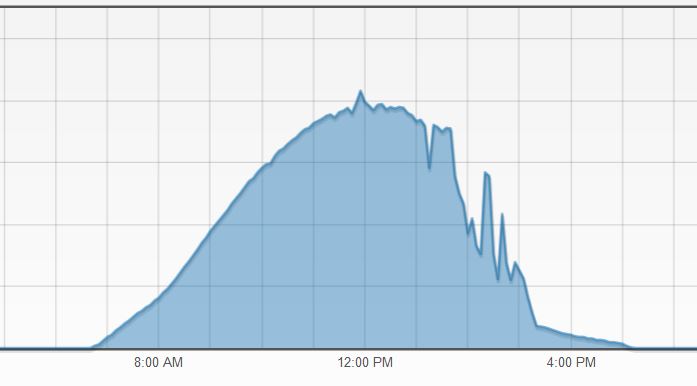 I tried loading a backup from a few days before the failure and it was still reading wrong.
Do I have a hardware fault? Where should I be looking?
My log file suggests some files are missing, but all my services are running.
emoncms.log.txt (7.8 KB)