Hello everyone, first of all I want to say hello and thank you in advance for reading this topic and spending some of your time helping new users.
I have a clean installation of Emoncms low-write 10.2.6 with only two inputs, five feeds and a dashboard. In this installation I have only one user who is an administrator.
In addition to that I installed, as the official documentation says in: https://github.com/emoncms/group and updated the database later, , the Group V.2.0.0 module to be able to create groups and add users to these groups.

After that I go to Groups click on New Group fill in name and description and click on Create and emon cms returns the following error:
Despite the error if I refresh the page a new group appears with the name null.
I enter into the null group, click on Create User, fill in the data (probe with all user role types) and click on Create and ad to Group.
After that Emoncms returns a new error, but this time if I refresh the page nothing appears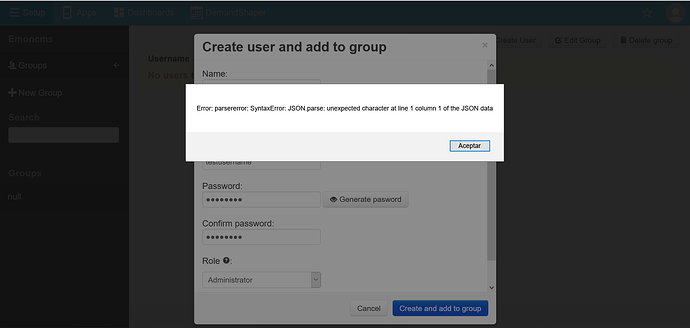 Can you please help me?, thank you very much again, greetings.