I have several Raspberry Pi web servers running various things, including one that runs emonCMS (emonSD-26Oct17 version). I'd like to set up a reverse proxy behind my home router, running on a dedicated Raspberry Pi that can route traffic to the correct Pi based on domain. Thus I'd like to be able to run emonCMS behind a reverse proxy running on a different machine.
I have had success doing this with both NGINX and Apache2 running the reverse proxy, as long as I stick with http. As soon as I try to enable SSL I get results that suggest to me that emonCMS can no longer parse the inbound URL to find which script it should run.
Here is what I see: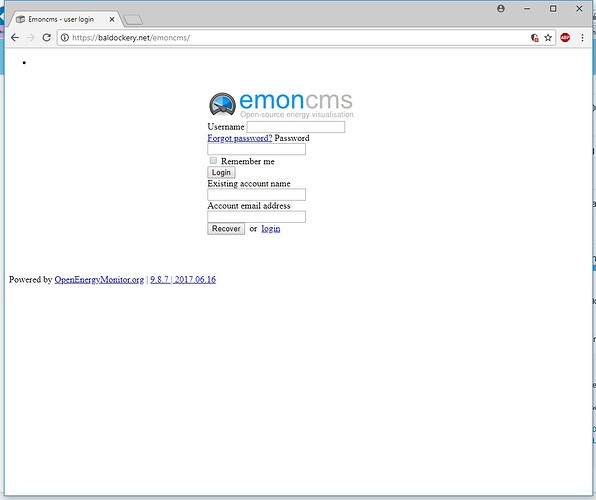 Here is the VirtualHost I am running. Can anyone help?
<IfModule mod_ssl.c>
    <VirtualHost _default_:443>
            ServerAdmin [email protected]

            DocumentRoot /var/www/html

            ErrorLog ${APACHE_LOG_DIR}/error.log
            CustomLog ${APACHE_LOG_DIR}/access.log combined

            SSLEngine on

            SSLCertificateFile       /etc/letsencrypt/live/baldockery.net/fullchain.pem
            SSLCertificateKeyFile  /etc/letsencrypt/live/baldockery.net/privkey.pem

            ProxyPass / http://192.168.0.100/
            ProxyPassReverse / http://192.168.0.100/
            ServerName baldockery.net

    </VirtualHost>