Hi there!! I don't know if I have a connection issue or other …I connect the RJ45 to the EmonPi and (after reboot) don't have any input.
I connect the 18b20 sensor to a raspberry pi, and it works fine, then, the sensor its ok.
I try to look for (in EmonPi) the folder of w1 devices that I can see in the raspberry
,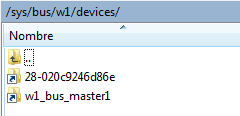 but in the EmonPi doesn' exist…where are this files ??
I want to find them for ensure that at least, the electric connection is make it well…
Or better I should to test other thing…?¿
thanks!