Hello all, I am trying to retro-actively generate kWh logs from power feed. I selected power to kWh and chose the input feed and selected the postporcess name. I selected from start and clicked start.
The response I got was "added to queue" It has been in queue every since, over 5 days from now. I have added other processes and same thing. (See screenshot)
What could I be doing wrong?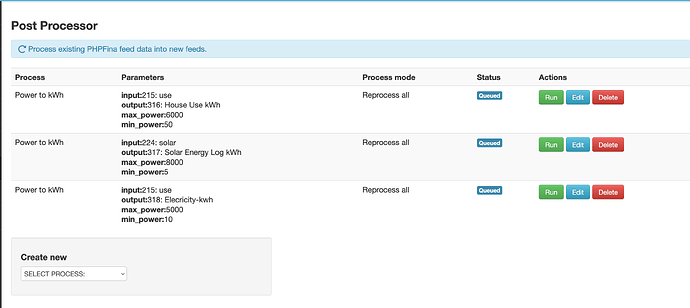 Server Information

Server Information

Services

emoncms_mqtt :- Activating loaded activating auto-restart

feedwriter :- Activating loaded activating auto-restart

service-runner :- Active Running

redis-server :- Active Running

emonhub :- Not found or not installed

emonPiLCD :- Not found or not installed

mosquitto :- Not found or not installed

demandshaper :- Not found or not installed

Emoncms

Version :- 11.3.21
Git :-
Components :- Emoncms Core v11.3.21 | App v2.7.2 | Backup v2.3.2 | Dashboard v2.3.3 | Device v2.2.2 | Graph v2.2.3 | Postprocess v2.4.6 | EmonScripts v1.3.9

Server

Machine :- QEMU Compute Instance/Standard PC (Q35 + ICH9, 2009), BIOS
CPU :- 1 Threads(s) | 1 Core(s) | 1 Sockets(s) | AMD EPYC 7601 32-Core Processor | 2199.998MHz | 4399.99MIPS |
OS :- Linux 4.19.0-24-amd64
Host :- localhost | localhost | (172.104.130.37)
Date :- 2023-06-26 11:53:23 WAT
Uptime :- 11:53:23 up 4 days, 1:34, 1 user, load average: 0.02, 0.05, 0.04

Memory

RAM :- Used: 58.53%

Total :- 987.32 MB
Used :- 577.86 MB
Free :- 409.46 MB

Swap :- Used: 80.98%

Total :- 512 MB
Used :- 414.64 MB
Free :- 97.36 MB

Disk

**** :- - / :- Used: 57.42%

Total :- 24.1 GB
Used :- 13.84 GB
Free :- 9.02 GB
Read Load :- 383.99 B/s
Write Load :- 2.82 KB/s
Load Time :- 25 days 7 hours 13 mins

HTTP

Server :- Apache/2.4.38 (Debian) HTTP/1.0 CGI/1.1 80

MySQL

Version :- 10.5.19-MariaDB-1:10.5.19+maria~deb10
Host :- localhost (127.0.0.1)
Date :- 2023-06-26 11:53:23 (UTC 01:00‌​)
Stats :- Uptime: 351276 Threads: 9 Questions: 803079 Slow queries: 0 Opens: 30 Open tables: 23 Queries per second avg: 2.286

Redis

Version :-

Redis Server :- 5.0.14
PHP Redis :- 5.3.7

Host :- localhost:6379
Size :- 408 keys (925.00K)
Uptime :- 4 days

PHP

Version :- 8.0.29 (Zend Version 4.0.29)
Run user :- User: www-data Group: www-data Script Owner: www-data
Modules :- apache2handler calendar Core ctype curl date dom v20031129exif FFI fileinfo filter ftp gettext hash iconv igbinary v3.2.14json libxml mbstring mysqli mysqlnd vmysqlnd 8.0.29openssl pcre PDO pdo_mysql Phar posix readline redis v5.3.7Reflection session shmop SimpleXML sockets sodium SPL standard sysvmsg sysvsem sysvshm tokenizer xml xmlreader xmlwriter xsl Zend OPcache zlib
Client Information

Client Information

HTTP

Browser :- Mozilla/5.0 (Macintosh; Intel Mac OS X 10.15; rv:109.0) Gecko/20100101 Firefox/114.0
Language :- en-US,en;q=0.5

Window

Screen

Resolution :- 1728 x 1117