I should have known better than to try the shiny new "post process" features without reading the documentation which I just learned are not available yet. Hopefully soon. But I jumped right in and immediately got over my head.
The "post process" feature appeared when I updated my emoncms from 9.8.6 to 9.8.18, while I was attempting to resolve issues with virtual feeds, which are now working.
I created 3 post processes that I would like to remove, but I'am not sure how. There is no explicit mechanism for doing so that I see.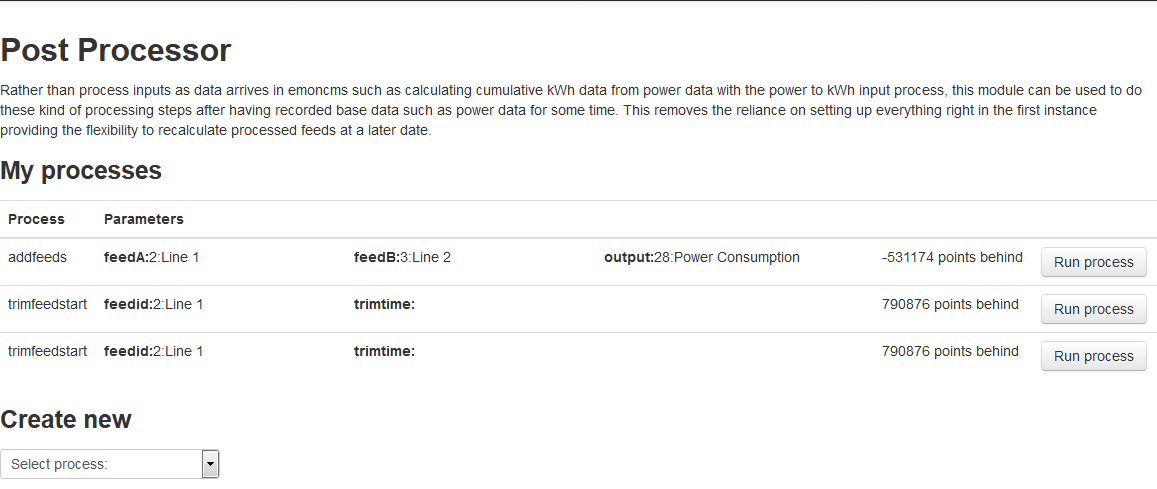 The first process is simply summing the two power feeds from the emonPi into a new feed titled "Power Consumption". On its own this process worked and updated when requested and would graph as expected. What's unexpected is that the database file, 28.dat, is nearly 170% the size of either of the input database files, 2.dat or 3.dat.
I should have stopped there but I continued. I decided that it would be good to trim the feed start time for the two power feeds as they included data before I had the larger CT's that would fit over the power feed lines in my residence. After doing this for Line1, I noticed that a new feed was not created. I expected a new feed, but the original feed, is not altered in size and when graphed is truncated at the new start time as expected, but does not update anymore in the graph. I suspect now that the data file is not modified by the "trimfeedstart" process, but the start time is altered in the corresponding metafile.
I see from the feeds page that the original feeds are updating and the corresponding database file, 2.dat, increases in file size periodically as does 3.dat. And the first post process feed "PowerConsumption" does not update graphically- even after pressing "Run Process", but the file size of the data file does increase when I run the process. Does this have anything to do with the fact that the two feeds being summed do not now have the same start time?
How do I recover from this? Can I simply use a new "trimfeed start" process to reset the start time to an earlier time, which I can determine from the other intact feeds? This sounds logical to me, but I would like other, more knowledgeable opinions on the matter.
And finally, how do I remove the post processes from the page?