Hello
my setup includes two Tesla home batteries fed from a Tesla Gateway (as well as PV and two ASHP), and a PodPoint Solo.
The supply to my podpoint Solo comes off a Henley block positioned between the Tesla gateway and the electricity meter. It's a 7kW setup (as can be seen in the graph below)
I have a longstanding energy monitoring setup around the house using the OpenEnergy setup and EmonCMS, with a variety of CT clamps that give me too much data
The car charging worked fine, till recently. The graph below just shows the total current coming into the house (orange line) (i.e. before the gateway/podpoint split, as well as the current after the spit (blue line), which is the current going to the Tesla gateway
Before 0030, there's no current at all, as the Tesla batteries are providing the feed to the house (i.e. no grid consumption). At 0030 the batteries start to charge, and about 30A flow through. A few minutes later, the podpoint turns on and the current jumps to 60A - 30 to each of the Tesla and the PodPoint.
At about 0230, the Tesla home batteries are full, and the podpoint continues to charge the car till 0430.
What is odd is:
while the Tesla batteries are charging the Podpoint runs at around 30A, and about 7kwh/h goes into the car. After 0230 the oscillation starts, and the effective charge rate to the car drops by about 50%.
What is going on?
FWIW, taking the PodPoint CT clamp on or off makes no difference to the phenomenon.
I also noticed that if I run the ASHP, for example, it stops the oscillation - so it seems more to do with the total current, rather than anything to do with the Tesla Gateway itself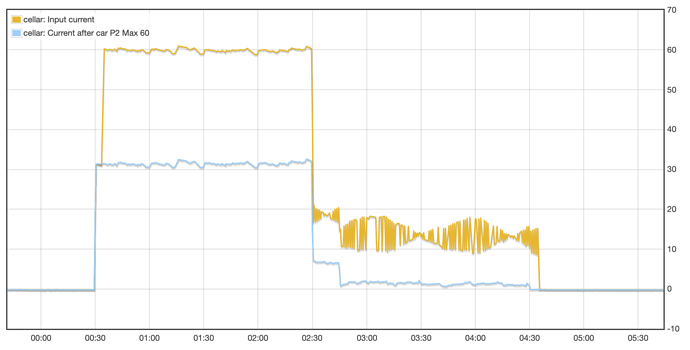 Collective wisdom gratefully received!
THanks
Damien