Im using emonTX 3.4 with the up to date firmware
I bought 7 temp sensors and im looking to plug them all manually, after reading the EmonTX i found out that the breakout board was not available, so i bought myself another "RJ45 breakout"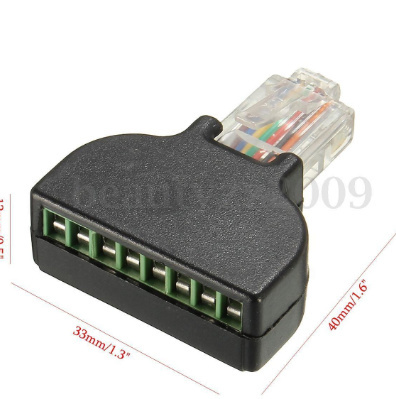 After establishing the pinouts i found out that thers only 3 Digital ports at the RJ45 socket (Digi3, Digi5 and Digi20) so Im still trying to find out how is it possible to plug 7 temp sensors (as shown in emonCMS) even when the EmonTX guide shows up to 4 conencted
Meanwhile the port map only shows 3 Digital ports available, and there is no port map for the breakout module, am i missing something?

btw looks like one of the connections i made went to pulse sensor instead of a temp sensor (since it went from 0 to 1)
This is my " port map" and im assuming im missing 4 digital ports for 3 Temperature sensors and 1 pulse sensor, after plugging the first 3 TS, only TS1 is showing in emonCMS, also im assuming D20 and Dig20 are the same port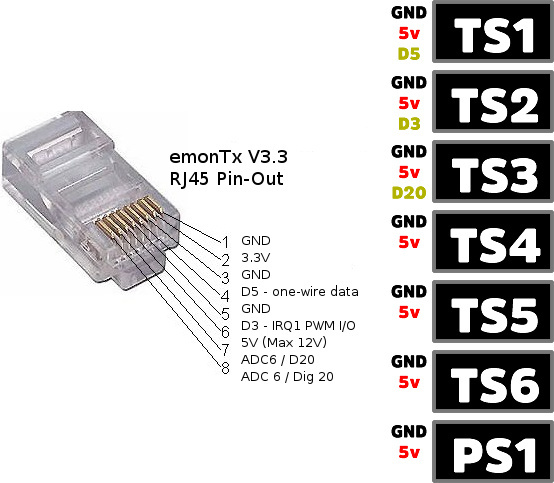 i already know
"300" means the temperature is out of range.
"301" means the sensor has not been detected. That value is loaded at start-up and overwritten when the sensor sends a temperature. So with only one sensor, that's OK for nos.2-6.
"302" means the sensor has been powered up but not asked to read the temperature, but it has been asked to send the temperature back. It's likely to mean an intermittent connection.
I might have a dodgy connection (at the momment), however right now would like to know how to make use of all the 7 reserved spaces for temperature using what I currently have (PLUS the pulse sensor)
The only clue I found was from the EmonTX 3.4 guide
Multiple DS18B20s can be daisy-chained, but this will require changes to the pre-installed emonTx firmware itself.
Any advice is welcome