I've recently installed & got working the latest WiFi module in a kit built OpenEvse (single phase) charger.
(OpenEvse firmware 3.11.3 and WiFi firmware 3.3.1)
And I've now tried it out with Demand Shaper with the following results …
Late evening (Fri 23 Oct) the Tesla EV was a little over 60% charged and this was reflected in the solid green bar on the Demand Shaper page. I dragged the light green bar to 70% - the desired overnight charge. And Demand Shaper showed charging would happen between 3:40am and 4:00am.
This screenshot shows what actually happened overnight …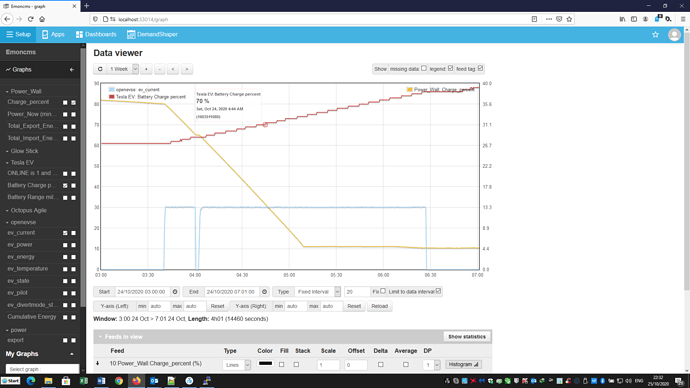 Until 3:40am PowerWall (orange line) is slowly discharging to satisfy the house load – situation normal
At 3:40am:
OpenEvse (blue line) starts charging as the Demand Shaper page said it would
PowerWall (orange line) discharge markedly accelerates as it is now charging the Tesla EV. This behaviour is a real disappointment – I will create a separate Forum topic to discuss this.
At 4:00am:
OpenEvse (blue line) stops charging as the Demand Shaper page said it would
The Tesla App sends a text message saying that Charging was Interrupted at 4:00am
BUT at 4:02am (2 mins later):
OpenEvse (blue line) restarts charging and the accelerated PowerWall discharging continues
At 4:44am:
Tesla EV charge (red line) reaches 70% which was the light green bar limit initially set on the Demand Shaper page – but OpenEvse ignores this and does not stop charging
At about 5:10am:
PowerWall (orange line) is fully discharged to 5% (limit for battery life reasons)
Just before 6:30am:
Tesla EV (red line) reaches 87% (set as the max for battery life reasons)
OpenEvse (blue line) finally stops charging
The Demand Shaper page then showed the solid green bar at 87%
So a bit of a dog's breakfast and my settings maybe the problem …
My act in creating the OpenEvse Device and associated Demand Shaper caused many settings, inputs & feeds to be automatically created – very helpful – and I've gone with the flow – an act of faith with little understanding on my part.
This screenshot shows the detail behind Demand Shaper …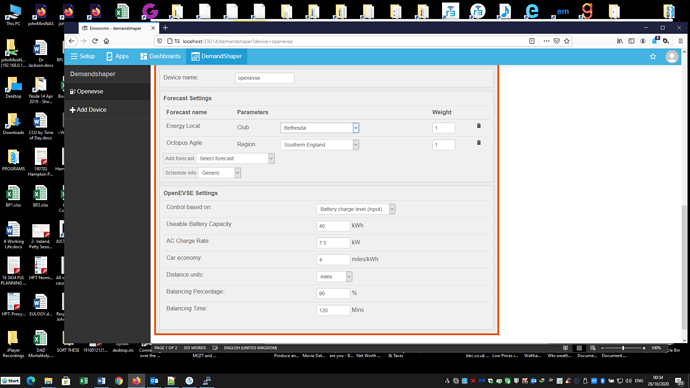 The settings are default for the most part. But I've used Battery Charge level (input) based on my understanding of earlier advice from Glyn.
I can find no explanation for all these settings – is this published somewhere?
But perhaps my OpenEvse settings are also screwed up? The following screenshot shows the Services page …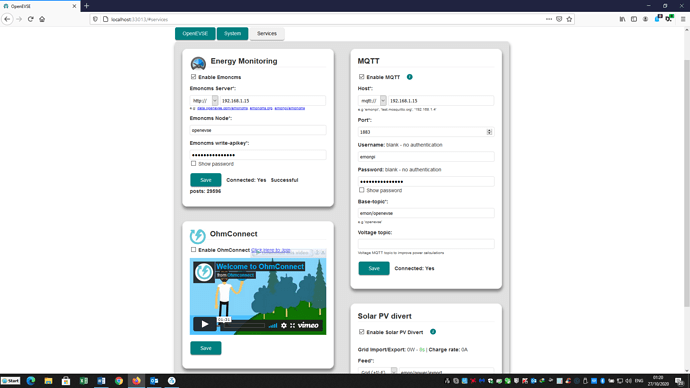 Both the emoncms server and the MQTT server are running at 192.168.1.15 on an RPi without any sensors attached running emon 10.2.6 plus a couple of scripts plus OpenEvse, of course. emonhub.conf only has the MQTTinterfacer and the emonhub log is blank.
However I've seen this in Resources which I don't understand …
"MQTT can used to communicate with an emonPi for Solar PV Divert (EcoMode) feature.
Note: MQTT will also send the same status updates as Emoncms HTTP (see above). MQTT and Emoncms HTTP should not be both enabled to post to the same Emoncms server e.g emonPi since this will result in duplicate inputs."
Is it wrong to have the emoncms & MQTT servers running on the same RPi?
ECO-mode is turned on – which maybe relevant?
Any guidance would be most welcome – thx
(And if I can get these problems solved then it will be time to upgrade to a 3 phase EV charger)