Hello! I have three EmonTx V3, each monitoring a different incoming phase. Each one of them is powered by a 9V AC-AC adapter on the respective phase, and has a single CT plugged in. The AC adapter reads 12.2 V on my multi-meter when not loaded, which seems right within expectations
Of the three units, I've noticed that one of them is stops updating every now and then, no new values show-up on the EmonCMS runing on EmonPI, and no lights flash in the unit. I have to cycle power to get it to update again.
I've pasted below a couple of graph screenshots showing the two most recent lock-ups.
What you as next steps to try to troubleshoot the source of this problem? (although given that this seems to take a few days to happen, it may be a while before I see it locked-up again)
regards
Claudio
Example 1 - 18/Nov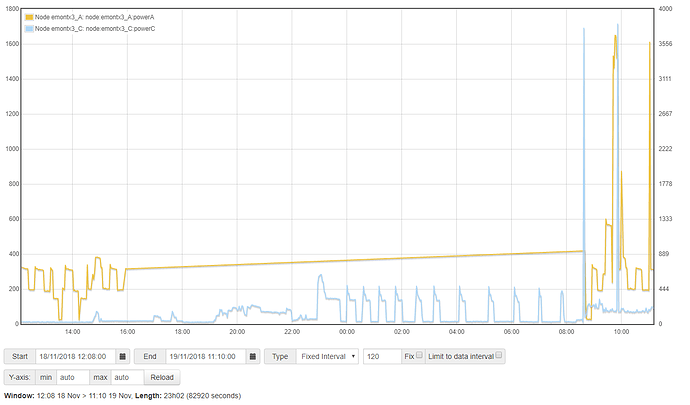 Example 2 - 22/Nov