Hi all,
Given the steady climb of Octopus Agile pricing this summer, I've taken the plunge and moved to the Octopus Tesla tariff. Gone is the time based pricing, and now I get the same value for export as I do for import (11 p/kWh). It strikes me that my annual cost will be the difference between my solar generation and use, plus charge/discharge losses of the powerwall.
Octopus make money/sustainability by taking control of my powerwall and using it as a mini grid balancer. I'm looking forward to keeping an eye on their activity with my OEM setup!
I've had a powerwall and solar since March 2020, so did a quick model for what the telsa tariff would have cost me (standing charge not included). Below is the monthly balance: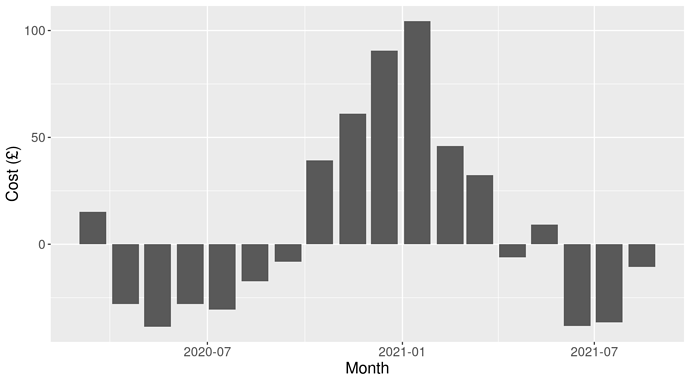 And here is the cumulative cost over time: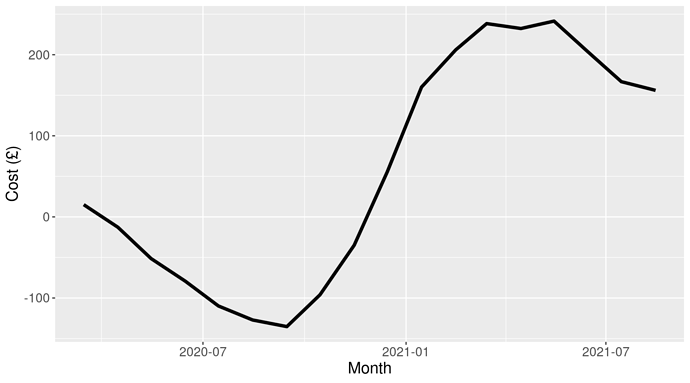 March 2020 to March 2021 is about £240 of cost. I've an all electric house (heat pump, induction hob, etc.), and bought an EV in the spring. This will change my electric use, but I think the biggest use will remain space heating (10-30 kWh/day for ~6 months of the year) as we cycle most places. This space heating need is the reason I'm trying the tesla tariff instead of an EV specific one. Cheap electric in the night isn't much use if I want a warm house at tea time.
I'll keep you updated!