I have had an ecodan installed and am getting the installers to put in emonHP bundle monitoring equipment.
They still have to come back and install the electric meters but they have the heat meter already installed.
Our first proper DHW cycle was recorded by this but I am confused by the output (below):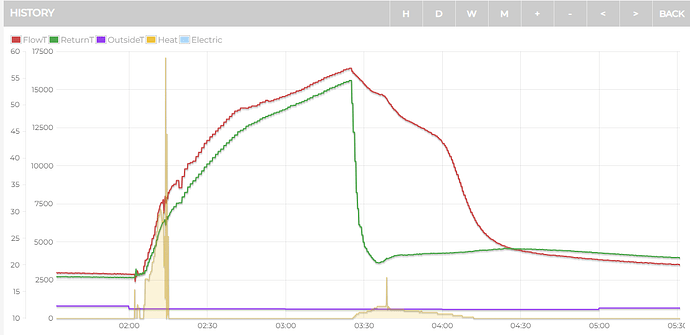 As you can see it looks like the HP is heating hot water from 02:00 (as scheduled) until just before 03:30 based on the flow and return temperatures. However although the power readings look correct at the beginning of the cycle they then seem to go weird, spike and then drop to zero at about 02:15.
Can anyone explain what might be happening?
I have a PUZ-WA85VAA and got the Kamstrup Multical 403 (up to 11kW) Heat Meter as part of the bundle.
The heat meter is installed on the Return with the arrows pointing in the direction of the heat pump.
The temperature probe on the Flow is in a Tee.