I am hoping someone can help. I had an emonEVSE installed at the beginning of this week. I have written a node script which gets the meter readings from my powerwall and publishes:
availableenergy/grid_ie
availableenergy/vrms.
I have think I have configured it correctly because I see Grid Import/Export, Voltage, Available current, Smoothed current and either waiting for solar or charge current in the Session status box.
I am sure I must have configured something wrong but don't know what it is. I suspect that something in the evse class is causing the commands issued by divert.cpp to be ignored. I do not have any other OpenEnergyMonitor products, so there shouldn't be anything else interfering. As the car (VW ID.3) seems to wake up and draw the amount of current set I also assume this isn't the problem.
Here is what I have found so far:
The values displayed seem to correspond with the logic in divert.cpp in the source code, but the charger charges at maximum rate without taking any notice of the charge current calculated by divert. As an example at present the divert values are:
Grid Import/Export: 661W
Voltage 249.2V
Available Current: 0.00A
Smoothed Current: 0.00A
Here is a screen shot taken at 18:00

I am currently using the time window to control if it charges or not, though I would like to just use the grid_ie to control this.
At the time this was taken the maximum current was set to 6A, but I have subsequently changed this to 32A.
If I set the time window to include the current time, the current rises to about 32A and Grid Import/Export goes up to about 8000W.
divert.cpp makes calls on a class evse, which is possibly declared in openevse.h. Unfortunately openevse.h (and openevse.cpp) are not in the repository so I cannot follow the logic to see what is happening.
So I have tried looking in the console window, which shows as follows when it starts charging.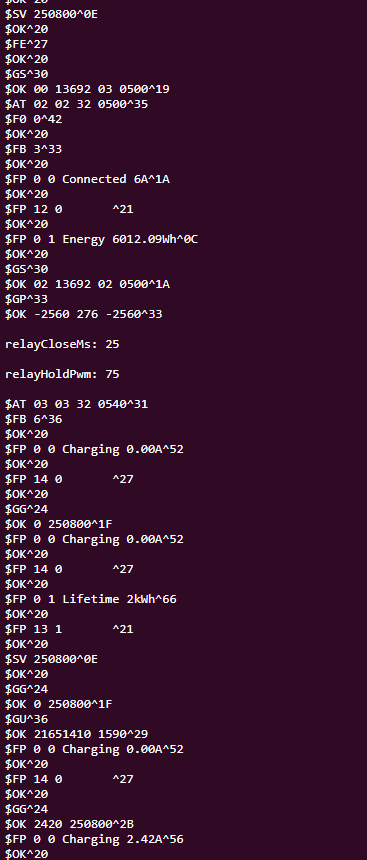 There is a $AT command in a couple of places which doesn't appear to be handled by rapi_proc.cpp in the open_evse repository.
Here is the result of 192.168.1.21/config
The site won't let me upload attachments so the json response is pasted below:
{
  "firmware": "7.1.3.T2",
  "protocol": "-",
  "espflash": 4194304,
  "version": "4.0.1",
  "diodet": 0,
  "gfcit": 0,
  "groundt": 0,
  "relayt": 0,
  "ventt": 0,
  "tempt": 0,
  "service": 2,
  "scale": 220,
  "offset": 0,
  "mqtt_supported_protocols": [ "mqtt", "mqtts" ],
  "http_supported_protocols": [ "http", "https" ],
  "ssid": "",
  "pass": "",
  "www_username": "",
  "www_password": "",
  "hostname": "openevse-8eac",
  "sntp_hostname": "pool.ntp.org",
  "time_zone": "Europe/London|GMT0BST,M3.5.0/1,M10.5.0",
  "emoncms_server": "https://data.openevse.com/emoncms",
  "emoncms_node": "",
  "emoncms_apikey": "",
  "emoncms_fingerprint": "",
  "mqtt_server": "192.168.1.25",
  "mqtt_port": 1883,
  "mqtt_topic": "openevse",
  "mqtt_user": "",
  "mqtt_pass": "",
  "mqtt_solar": "",
  "mqtt_grid_ie": "availableenergy/grid_ie",
  "mqtt_vrms": "availableenergy/vrms",
  "mqtt_announce_topic": "openevse/announce/8eac",
  "ohm": "",
  "divert_PV_ratio": 1.1,
  "divert_attack_smoothing_factor": 0.4,
  "divert_decay_smoothing_factor": 0.05,
  "divert_min_charge_time": 600,
  "tesla_username": "",
  "tesla_password": "",
  "tesla_vehidx": -1,
  "flags": 1546,
  "emoncms_enabled": false,
  "mqtt_enabled": true,
  "mqtt_reject_unauthorized": true,
  "ohm_enabled": false,
  "sntp_enabled": true,
  "tesla_enabled": false,
  "divert_enabled": true,
  "pause_uses_disabled": false,
  "mqtt_protocol": "mqtt",
  "charge_mode": "eco"
}