A couple of years ago @sysriqo adapted the MySolarPVdivert app for use with batteries. The pull request was never merged as there was an unfinished discussion on whether to split the app out into its own separate app. Picking up from that point, sparked by recent discussions on this topic, thanks to @miker @haffle @Zarch , I have adapted @sysriqo's pull request to use the most recent version of the mysolarpvdivert app and made a few other changes. Thanks @miker for helping with testing!
The "MySolarPVBattery" app is now available via emonPi update and on emoncms.org.
Here is what it looks like:
Standard power view: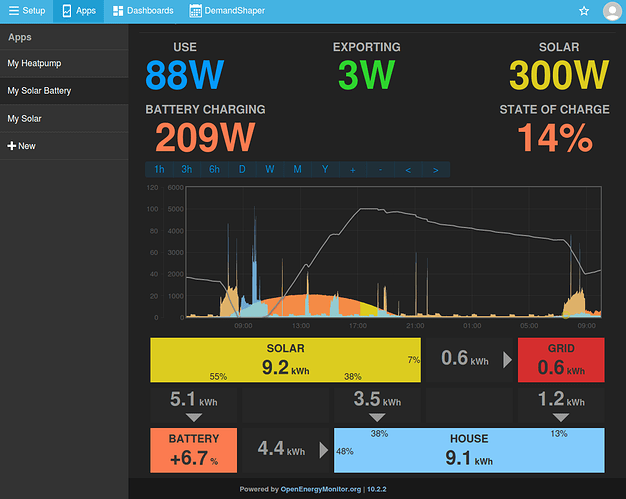 History view: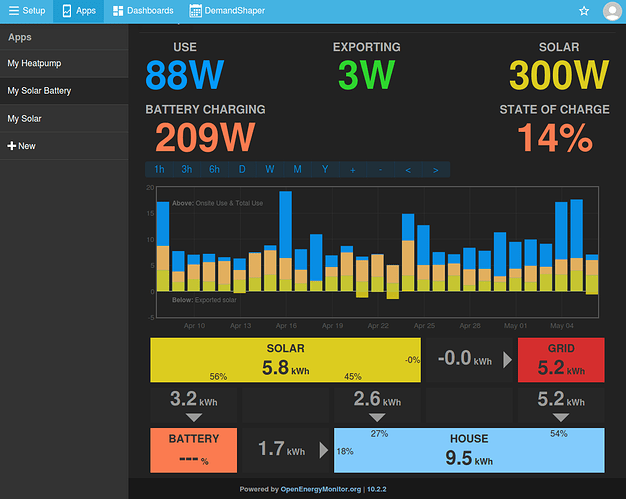 It works in much the same way as the My Solar PV Divert app but has the additional arrow to show the battery discharge energy into the house and the calculations elsewhere are quite different as well.
The app requires the following feeds:
use: Household consumption not including battery charging in Watts
solar: Solar PV generation in Watts.
battery_charge: Battery charge power in Watts.
battery_discharge: Battery discharge power in Watts.
battery_soc: Battery state of charge in %.
The history view requires a number of kWh feeds. The app works with the history mode disabled if these feeds are not present.
use_kwh: Cumulative household consumption not including battery charging in kWh
solar_kwh: Cumulative Solar PV generation in kWh.
battery_charge_kwh: Cumulative battery charge energy in kWh
battery_discharge_kwh: Cumulative battery discharge energy in kWh.
import_kwh: Cumulative grid import in kWh.
solar_direct_kwh: Cumulative Solar PV generation used directly in kWh (see below).
How to test
If you have an emonBase or emonPi with our emonSD image just run emonPi update to bring in the latest changes from the Admin page.
If you have an emoncms.org account the app is now available there as well.
Feedback on the above would be very welcome.